Cloudy, but fairly mild start to the day. Temps will make their way up into the upper 60's. Maybe a shower or two as we go throughout the day but won't be much.
The Storm Prediction Center has maintained our 5% chance of damaging straight-line winds within 25 miles tonight.
We are still NOT included in the tornado, hail, or flash flooding outlook. Our only real concern tonight is straight-line winds, and even then, those chances are low.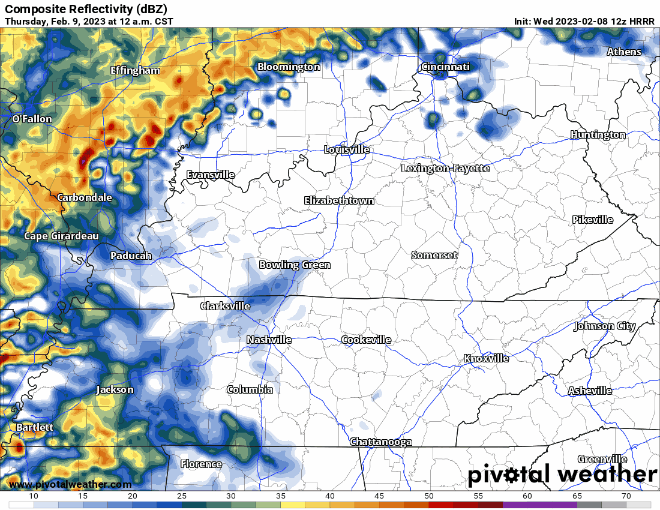 HRRR model, above, thinks some showers may arrive late tonight before the main line. ETA of the main line looks to be 5-6AM earlyyy Thursday morning.
Models continue to agree there will be very little, if any, CAPE aka storm fuel. CAPE is required to have severe thunderstorms – no CAPE, no severe. There will be a lot of shear present, so it won't take a lot of CAPE to tap into it and then we'd potentially have some damaging winds.
We'll be up watching it, tweeting as needed. As always, it's a safe bet to have your weather radio or wake-me-up app ready to go tonight. You can never be too safe, no matter how low the chances are.
Non-thunderstorm winds will be picking up overnight as well, which is why we'll be under a Wind Advisory from 12am – 12pm Thursday. Sustained winds of 20-30mph, with gusts up to 45mph will be possible. Secure any loose outdoor furniture, trampolines, etc. If tomorrow is trash day for you, good luck.
Thursday and the majority of Friday will be dry. Rain chances creep up a bit Friday afternoon/evening, but most of it should stay to our south.
This will leave us for a dry weekend with temperatures around average for this time of the year.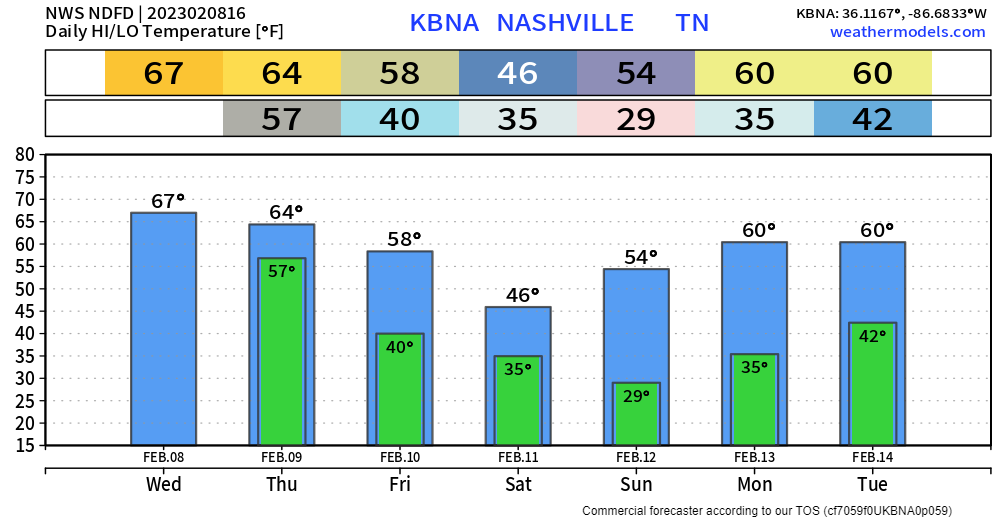 Quick References:
Weather changes constantly.
Follow @NashSevereWx on Twitter for any changes to this forecast.
We are 100% community supported. No ads. No subscription fees. Keep it free for everyone.