Over the next two days, we are looking at two possible rounds of freezing rain.
Disclaimer: We do not know if school will close, we also do not know if your flight will be delayed or cancelled – my apologies.
Disclaimer #2: This is not some huge, go buy out the grocery store, lose power ice storm. Minor travel impacts are possible, especially with how well (sarcasm) Tennessee drivers mix with any sort of winter weather…
If you've moved here from California and/or are new to winter weather, here is a little graphic on freezing rain. Fair warning – it is not fun.
Round One: Tonight into Tuesday Morning
Both of our counties are under a Winter Weather Advisory from 9pm tonight – noon Tuesday for possible ice accumulations of 0.01″ – 0.1″.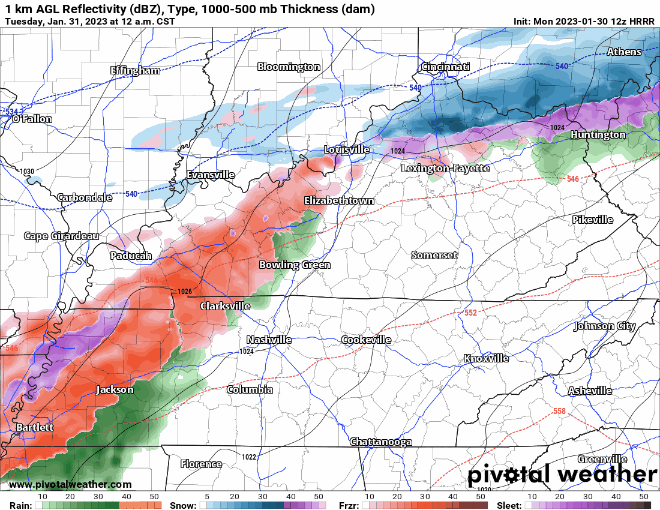 HRRR model, above, thinks rain starts just after midnight. This particular run of this model thinks we stay justttt above freezing tonight, hovering around 33-34°, therefore there would be no ice. This could be incorrect, temperatures could be a degree or two colder, and boom, we get ice. Temperatures would quickly rise above freezing Tuesday mid-morning even if we do go below 32°. Be prepared to take it slower tomorrow morning.
Round Two: Tuesday Night Into Wednesday Morning
Although no Winter Weather Advisory has been issued yet, one will likely issued soon for this round.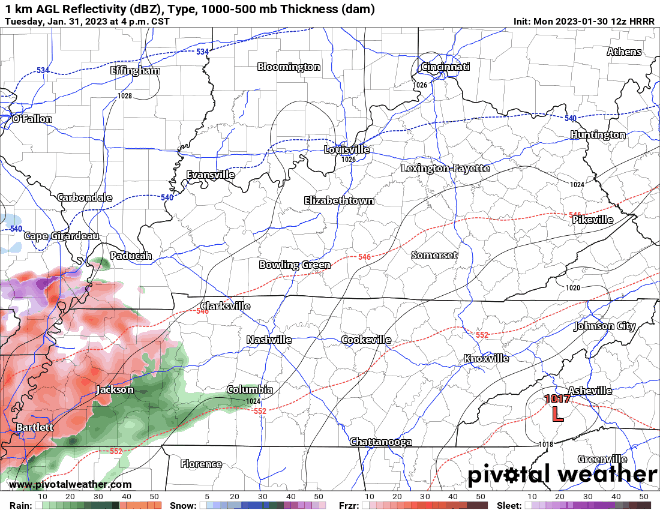 HRRR model, above, thinks rain starts Tuesday night around 5 or 6pm. This would start off as just rain, not the freezing variety yet. Overnight temperatures drop to around 30-32°, and some ice is possible, potentially causing some minor travel issues Wednesday AM. Similar to Tuesday, high temperatures will rise above freezing, melting any ice that did accumulate. Ice accumulations of 0.01″ – 0.1″ are possible with this round.
There is still a decent amount of uncertainty with both of these rounds. A degree or two can make a pretty big difference in what we get. We'll be giving out updates as soon we get them on here and on Twitter.
The majority of Thursday looks wet, but it'll just be rain. No winter or severe weather.
Rain will clear out and we'll be looking at a dry Friday – Sunday. Much deserved after this nasty week.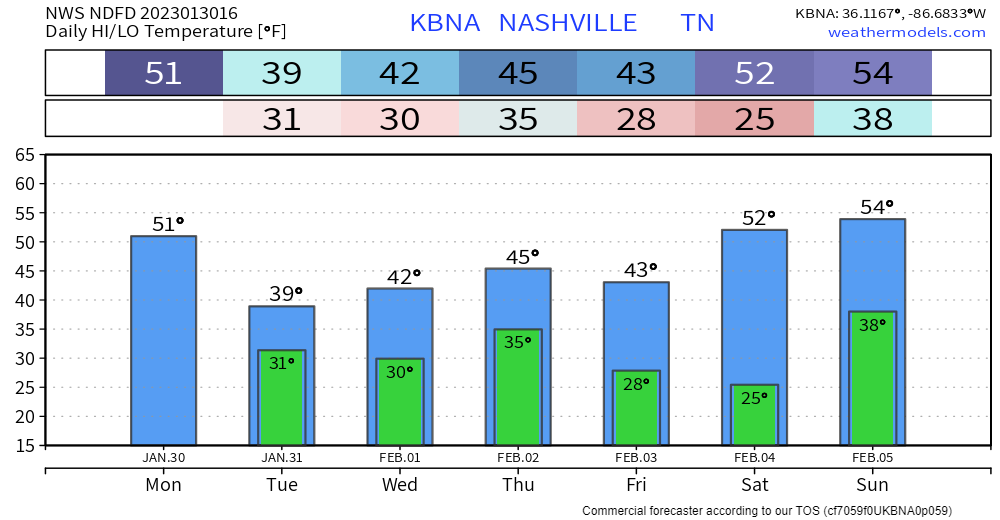 Quick References:
Weather changes constantly.
Follow @NashSevereWx on Twitter for any changes to this forecast.
We are 100% community supported. No ads. No subscription fees. Keep it free for everyone.