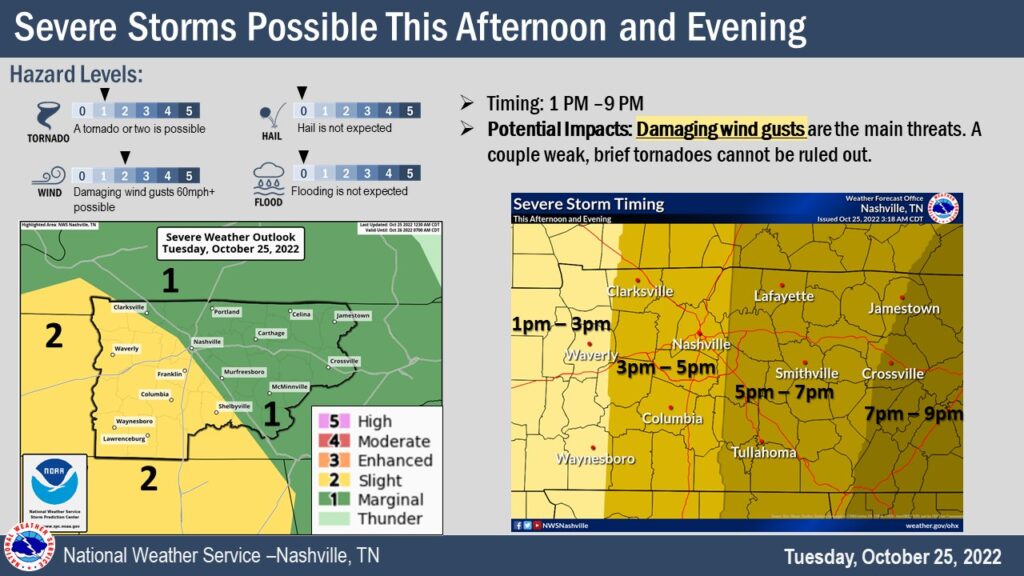 Some showers of no consequence moving through this morning, only will help water the grass a little.
🍃Before the main line of storms arrive, it will be windy. We are under a Wind Advisory until 7pm for sustained winds 15-25 mph, with gusts up to 40mph. That could bring down a few tree limbs before the storms arrive. Also, may make it difficult for high-profile vehicles, especially on I-40. Would be a good idea to move Halloween decor inside and make sure trampolines are tied down so they don't become frisbees.
When are the storms coming?
The HRRR model (below) has been fairly consistent on its' timing.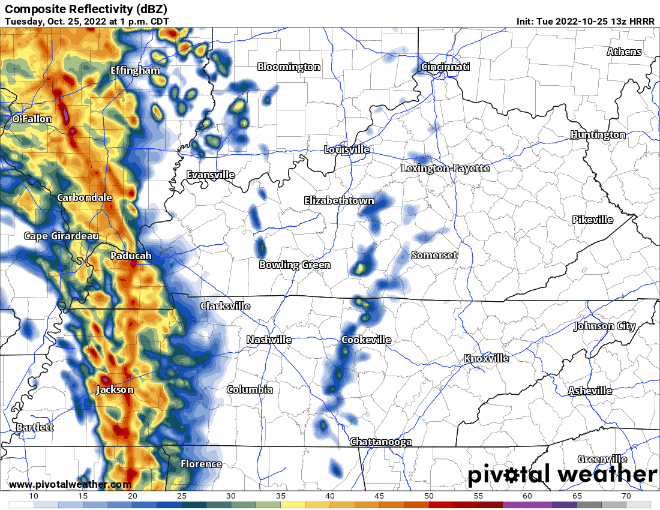 Entering our two counites –> 3PM
East Side of our counties –> 5PM
Exiting stage right–> 6-7PM
This timing probably won't be exact, and I'd give or take 30 or 45 minutes either way. We'll know a more precise ETA once the line gets to the Tennessee River. We'll be updating on Twitter all day.
⚠️Hazards:
💨15% probability of damaging straight-line winds (58mph+) within 25 miles
🌪️2% probability of a spin-up tornado within 25 miles
We are not outlooked for severe hail or flash flooding
yes, the "t" word. This tends to freak people out, and understandably, but let's walk through it.
This is a typical middle Tennessee fall low-probability severe weather step up, cold front coming through, lots of wind energy, but not a lot of storm fuel (CAPE), nothing out-of-the-ordinary-crazy-ohhhnoooo-setup
CAPE is super important when coming down to making things spin, and there will be a little, but certainly not to the point to making me freak out, more of a side-eye
However, with all of this wind energy, spin-up tornadoes can happen, and it's important to stay weather aware today
Another way to think of it is there is a 98% probability a spin-up tornado won't happen within 25 miles of you
By far the main threat today is damaging straight-line winds
We'll be tweeting updates all day today as they come out. If either of our two counties is included in a warning (whether it be severe thunderstorm or tornado) we'll go live right on our YouTube channel. If you do happen to be included in a Tornado Warning today, here's what to do.
Looks like we'll end up with about 0.5″ to maybe an inch of rain, not a drought-buster, but we'll take what we can get. Would likely rain out any ball games tonight.
---
Good news about the front is that after it moves through, humidity and temps go downnn, setting us up for a nice back half of the week.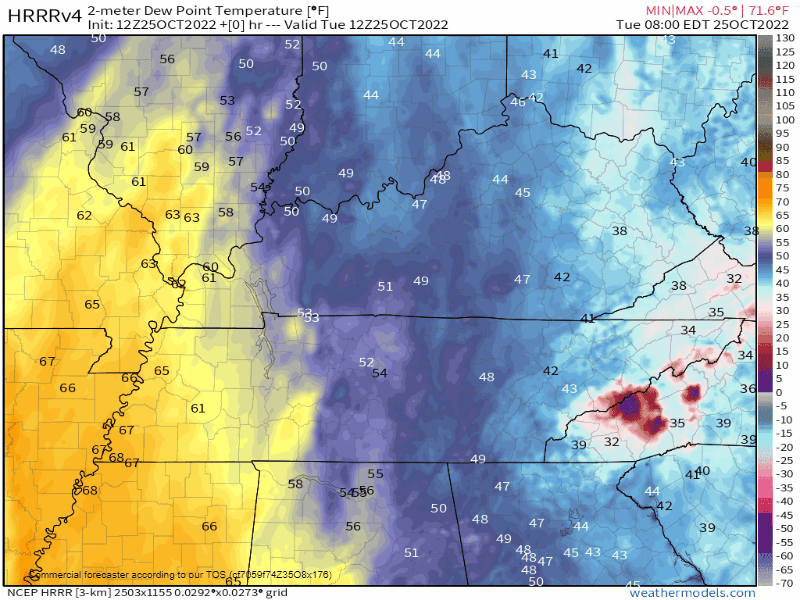 We'll be dry until maybe the weekend, which is when question marks starts flaring up.
Euro shows some rain, about 0.5″ Sunday thru Monday making for some maybe wet trick-or-treating.
GFS now shows a little rain on Monday, not much, about 0.2″, but some.
It's still too far out to start to side with one or the other. Like two siblings, sooner than later they'll eventually start to mature and start to agree. Still don't think there is any reason just yet to change any Halloween plans, but stayed tuned.
Regardless of if there is any rain – temperatures will be nice.
Quick References:
Weather changes constantly.
Follow @NashSevereWx on Twitter for any changes to this forecast.
We are 100% community supported. No ads. No subscription fees. Keep it free for everyone.