Your morning walk or visit to the farmers market will be dry this morning, although it's muggy with dewpoints in the low 70's.
I'll go ahead and start with the good news, and it's just about the only good news in this – temperatures will be slightly below average for the next week or so. Got to focus on the positives, right?
The HRRR model thinks rain/lightningstorms pick up sometime this afternoon. No real ETAs until the storms pop up on radar, and even then ETAs are iffy. A lot of local high school games didn't get to finish their games last night and will resume this afternoon – yes, there is a chance for more delays, but it all depends on how long the storms hold off.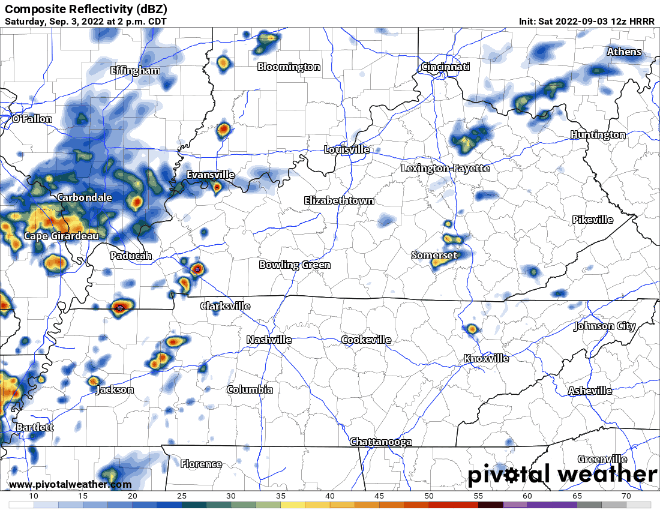 Our atmosphere will be water-loaded and these storms will be moving slowly and possibly training over the same area, which is why the Weather Prediction Center has outlooked us for a 15-40% chance of flash flooding within 25 miles. Rain will be on/off all evening and night, so Saturday night outdoor activities look questionable.
Storms dropped 4-6″ of rain in Maury Co. last night and there is possibility of that happening in Davidson or WillCo. The HRRR model thinks rainfall like that somewhere is Middle TN is likely, the question is where. If you see water covering a roadway – turn around, don't drown. Particularly when it's dark, the road may be washed out underneath the water.
Along with heavy rain and lightning, a couple storms could have some damaging straight-line winds. No tornado concerns.
Showers/storms will continue overnight until Sunday morning when we finally get a lull…until more rain Sunday afternoon.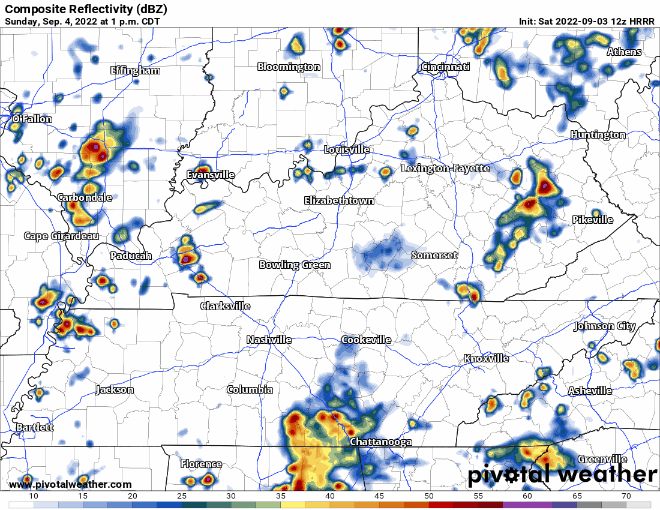 The HRRR model thinks the majority of the activity misses us, but I wouldn't trust the exact placement of the heaviest rain, it could very well be over one or both of our counties.
Labor Day calls for more of the same. Maybe not everyone gets rain, but a majority of us likely will. Flooding concerns will raise if areas have received a good bit of rain from the past few days.
Unfortunately we'll be stuck in this rainy pattern all week with high rain chances everyday through at least Friday. The humidity won't be too kind as dewpoints stay in the mid to upper 60's. At least temps will be below average?
Quick References:
Weather changes constantly.
Follow @NashSevereWx on Twitter for any changes to this forecast.
We are 100% community supported. No ads. No subscription fees. Keep it free for everyone.