You very well may feel like you are in the movie 'Groundhog Day'. At least it's not cold?
"When will it rain at my house?"
"Maybe sometime this afternoon."
"That's so vague, why can't you promise a time?"
To that, I will say my new favorite quote –

That tweet should have a million likes. Also this was not a real convo, just an imaginary one because I wanted to share that quote.
The usually sorta trusty HRRR model has been garbo (garbage) the past few days. Today it's trying to continue to tarnish it's reputation by showing zero rain for us today. It showed the same thing yesterday and most if not all of us ended up with at least a little.
Today, I want to introduce you to a new friend, the HRW FV3 model. Going to have to find a way to shorten that because that will be a hassle to type out every time.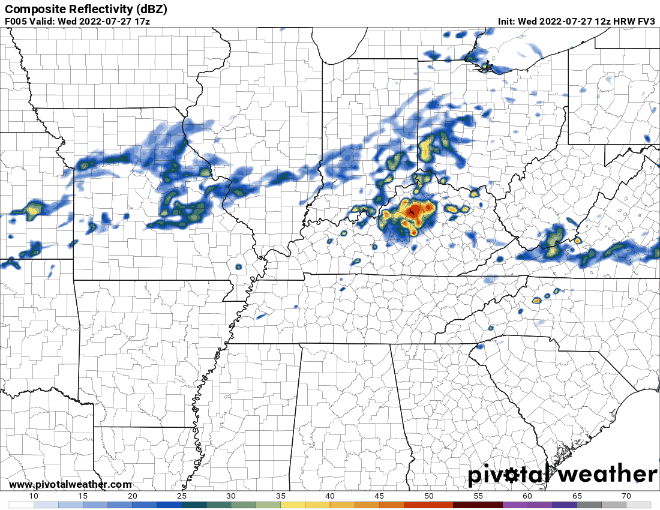 It doesn't have the fancy close zoom on TN like some of the other models will, but it'll do. Also there are no timestamps in the upper left, but this shows a loop from 1pm – 9pm if I did that right.
Our coverage may not be that widespread, but I think it's better than the HRRR model that shows literally nothing. Or maybe the HRRR model is right today. Who knows. I'll refer back to "there's no promises in meteorology".
Any one of those storms could contain a lot of lightning, along with damaging winds and maybe small hail. Not concerned about tornadoes.
I also think the FV3 model does a great job illustrating the possibility of isolated flash flooding in areas where storms "train".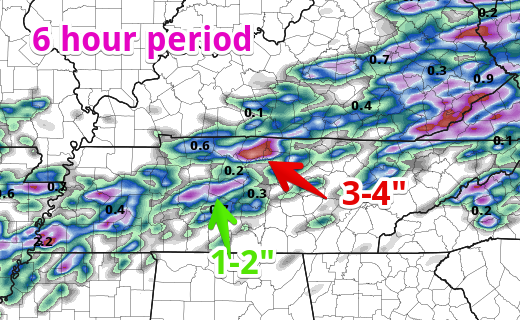 This run of this FV3 model thinks there is a possibility that somewhere, a pocket of 3-4″ of rain will fall. This would likely lead to flash flooding. Notice the streak of 1-2″, that's a good amount of rain, but if spread out of 6 hours? Nah, no flash flooding. Try not to focus exactly on where that pocket of 3-4″ is, more of the fact that somewhere in TN, it's possible.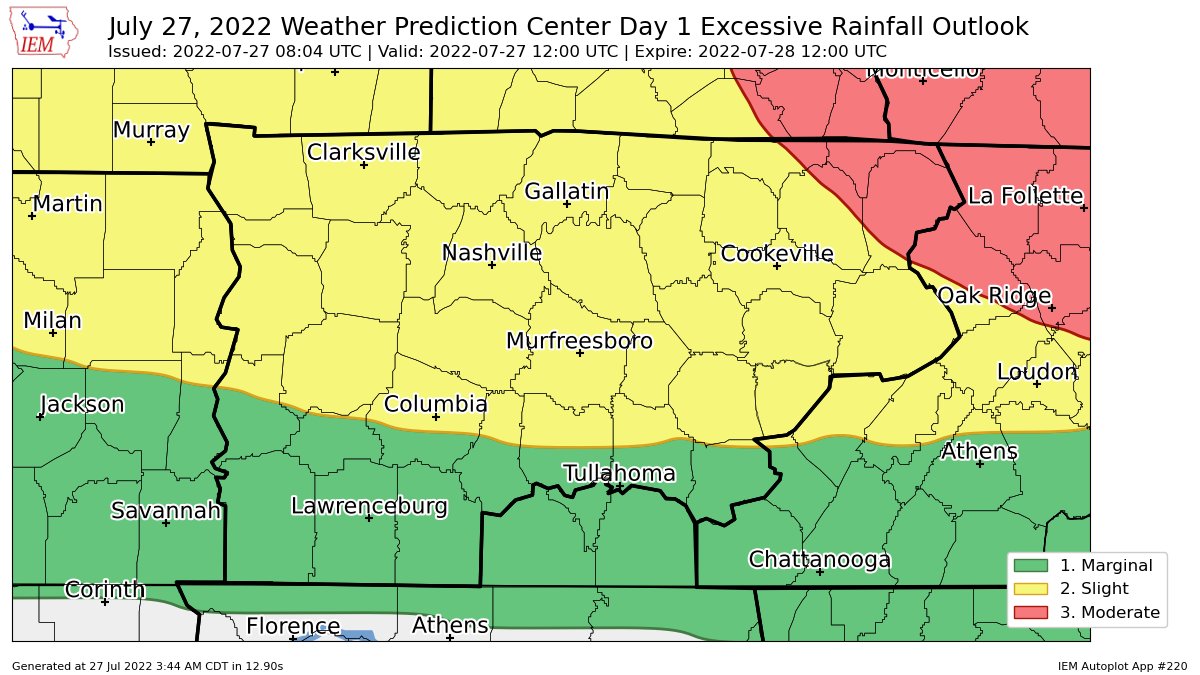 Better chances of flash flooding if you head NE of our area.
---
Stop me if you've heard this before, but more rain/storms on Thursday.
There HRRR model seems to have found itself, so I'll show it.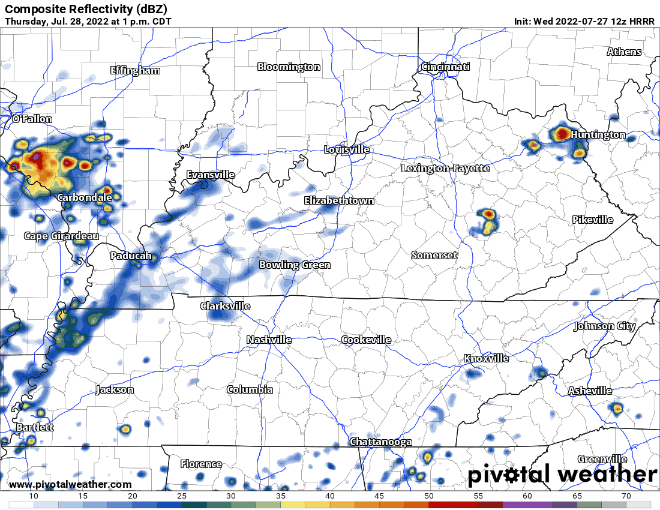 More Wattery-style showers/storms. Low probability of damaging winds and flash flooding. Some areas may get totally shut out from rain while others may get too much rain. Embrace the uncertainty.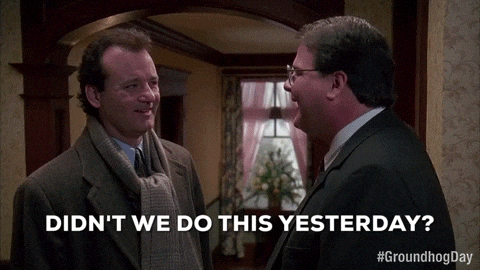 ---
I'm sure you can guess the weekend forecast. Yes – more Wattery rain/storms with a low-probability of damaging winds and flash flooding. Timing – probably sometime lunchtime through the evening. How exciting!/sarcasm
Yes soccer fans, this includes Saturday night. Models aren't in range for any specifics yet, but a dry game looks questionable.
When will it end? Euro and GFS think the pattern breaks on Tuesday. For models, that's fairly far out, so a bit sus if that's actually the day.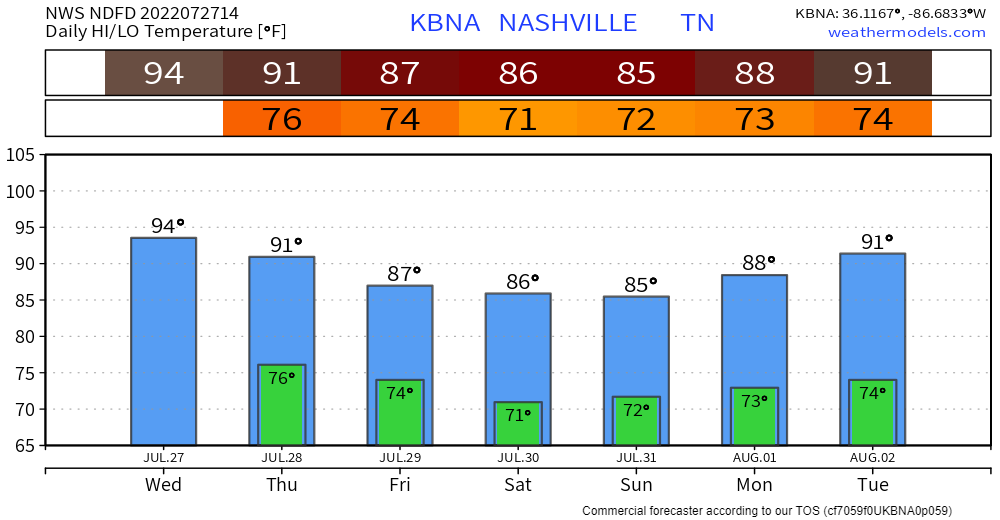 Temps and dewpoints are also stuck on a loop, low 70's for dewpoints. That's gross. At least we get a break from the 90's.
Quick References:
Weather changes constantly.
Follow @NashSevereWx on Twitter for any changes to this forecast.
We are 100% community supported. No ads. No subscription fees. Keep it free for everyone.