It may not rain in the traditional sense today while yardworking, but you'll be sweating on your greens if you do, does that count as watering?
Most of the rain will probably (?) stay north of us today (or maybe not? keep reading), which is good news for us, but has created serious flash flooding in St. Louis and surrounding areas. 8″+ of rain in and around St. Louis prompted a Flash Flood Emergency, which you may know that term from our March 2021 flash flooding. If you know anyone in that area, give them a shout and check in on them.
Wattery-style pop-up showers/storms this afternoon are unlikely, but with the amount of moisture in the atmosphere, it's certainly not out of the question we get a few pop-ups. A few models want to swing some of the activity up north into our area this evening. If this does happen, there is a low probability of damaging straight-line winds and flash flooding.
The HRRR model is changing. The `12z run did not have rain for us. But the newer 13z run does. See below. Timestamp in the upper left corner. Doesn't look like much right now, but we'll have a better idea of what to expect if/when the line shows up on radar.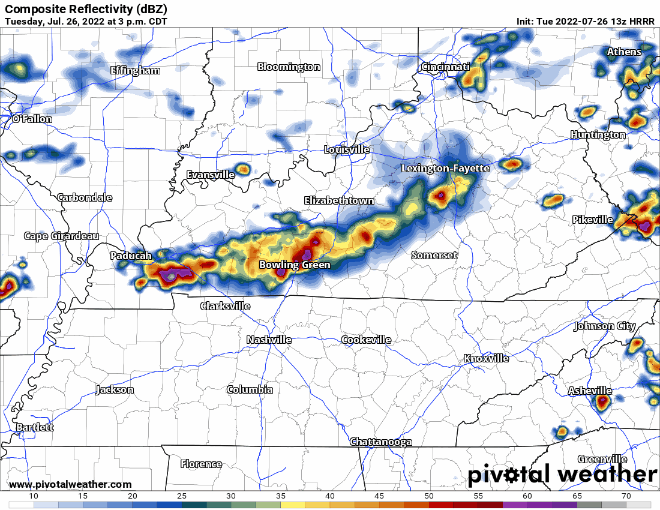 With the lack of rain, temperatures will be able to shoot into the low 90's and with Oppressive, borderline Miserable dewpoints, heat index values may reach as high as 103°. Dewpoints will stay this gross through Friday, it'll feel like you're swimming through the air.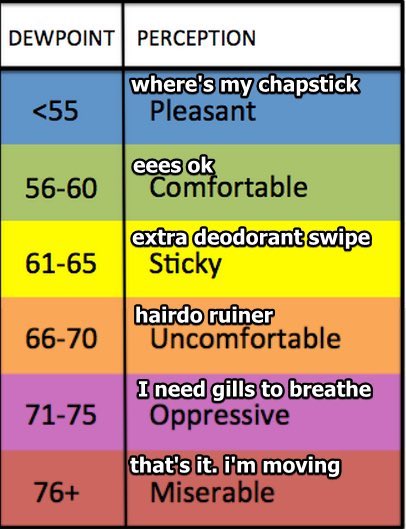 Better rain chances return Wednesday.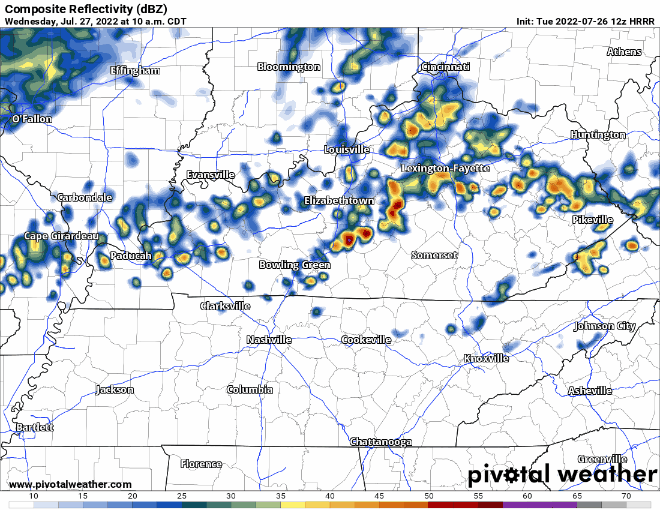 HRRR model (above) thinks the Wattery starts around lunchtime and sticks around thru the evening. Storm Prediction Center thinks these storms have a low-probability of being microbursty. Weather Prediction Center (WPC) has given us the 15-40% chance of flash flooding within 25 miles for tomorrow as well.
In fact, Wednesday – Saturday WPC has outlooked us for a 15-40% chance of flash flooding within 25 miles. Some days you might get zilch, other days you could get a couple inches of rain. The Wattery works in mysterious ways.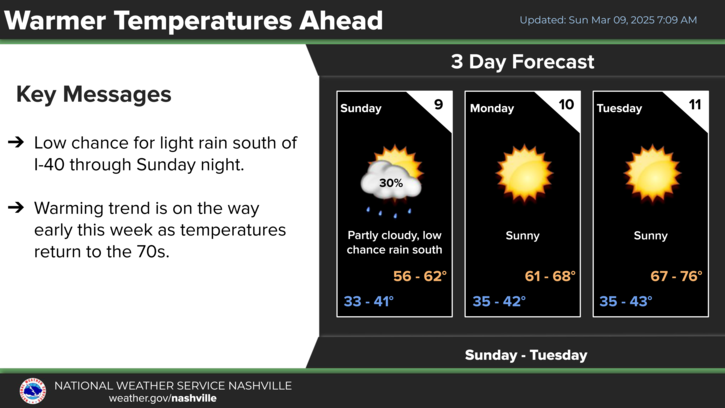 NWS Nashville thinks thru Sunday morning we end up with around 2-3″. Some locations may receive a lot more (or less) than that, but current indications is the Upper Cumberland are the "winners."
At least this weekend we don't have to deal with rain and 90's.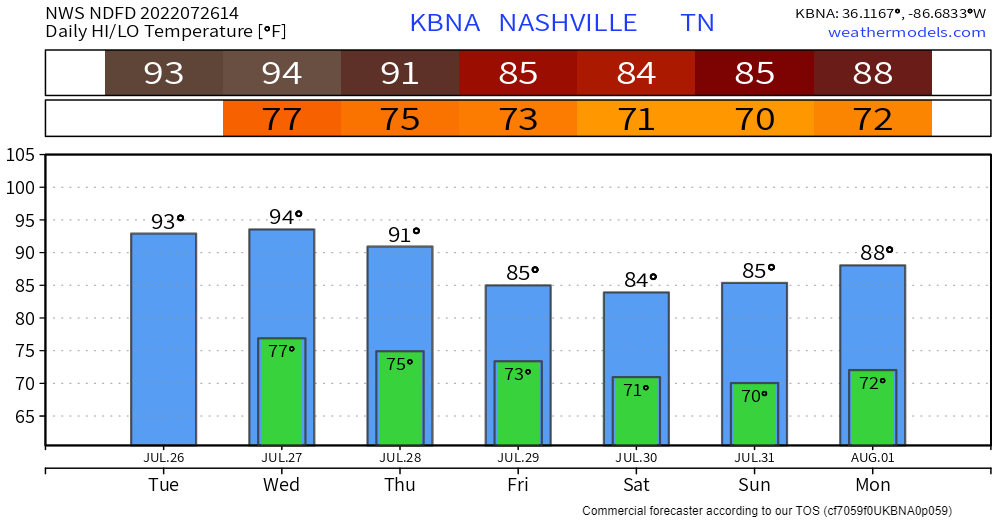 Quick References:
Weather changes constantly.
Follow @NashSevereWx on Twitter for any changes to this forecast.
We are 100% community supported. No ads. No subscription fees. Keep it free for everyone.