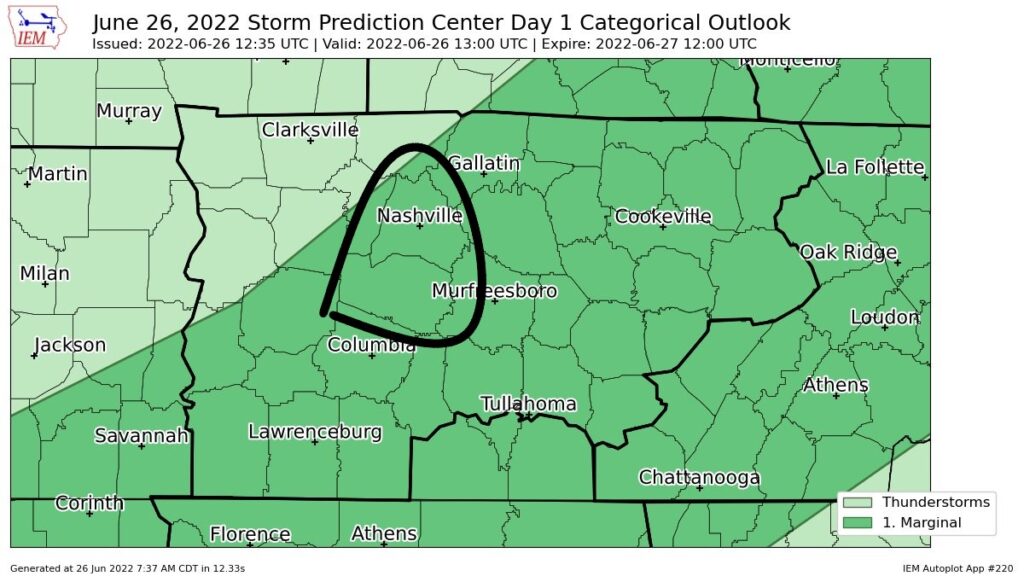 Clouds this morning has knocked the forecasted high down to "only" 94. With the dewpoints in the upper 60's it'll still feel closer to 100.
Currently some rain in NW Tennessee and Kentucky. Models don't think this rain makes it to us and dissipates before arrival.
The Storm Prediction Center has outlooked both counties for a 5% chance of damaging straight-line winds. This is for the possibility of wet microbursts, which can cause damage similar to low-end tornadoes. Take Severe Thunderstorm Warnings seriously. We are not outlooked for tornadoes or hail. The Weather Prediction Center still has us outlooked for a 5% chance of a flash flooding event.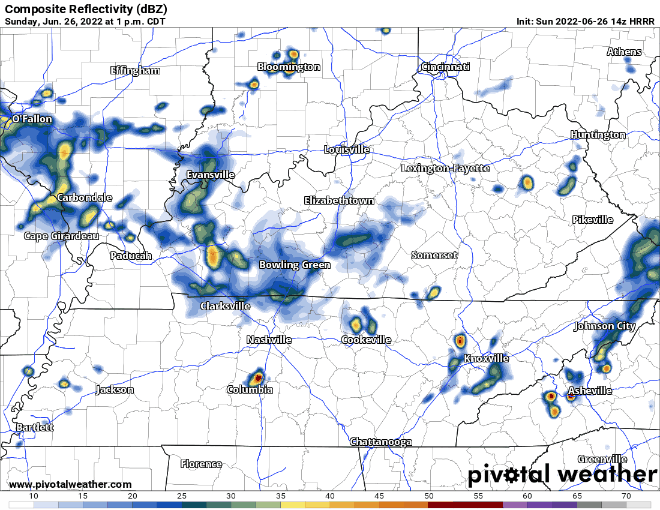 Latest HRRR model run thinks pop-up storms form in Will Co. around 6 or 7pm, move out in an hour or so, and then we are dry the rest of the night. This particular run thinks Davidson Co. stays dry. This is different from previous runs, which thought storms stick around for several hours, and both counties get in on the action. There is no clear ETA for these storms today.
Models are not perfect. Sometimes they aren't even good. They help give us guidance as to what might happen. I'd be lying if I said I knew exactly when and where it was going to rain/storm today. It's important to be flexible and to embrace the uncertainty, especially during pop-up storm season. If you have outdoor plans, including being at the Speedway, have a place to shelter incase a storm does decide to impact you. When thunder roars, go indoors. We'll be tweeting today as needed.
---
Monday and Tuesday look like the best days of the week. No rain. Temps in the mid 80's and dewpoints in the low 50's. Definitely days to get in your yard work.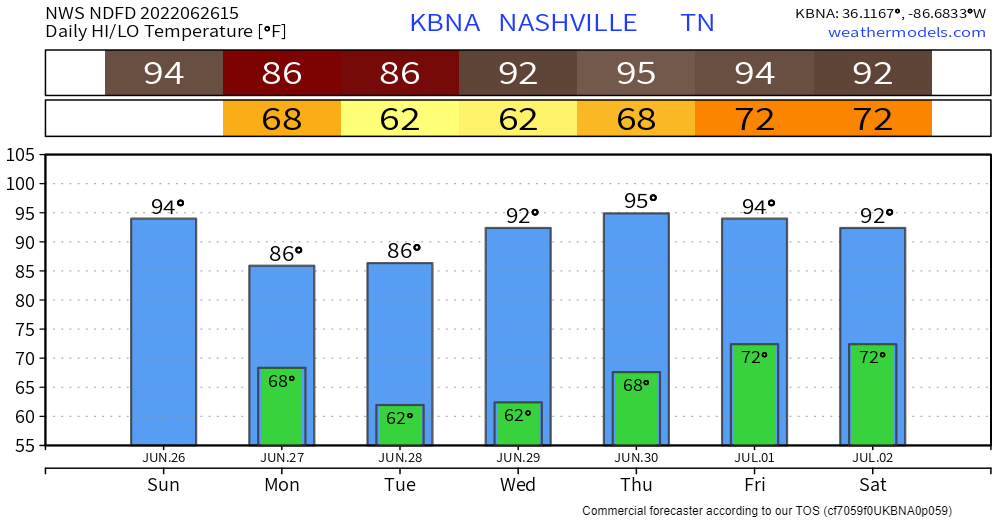 After that, we heat back up into the 90's and dewps creep back up into the 60's by Thursday. Next rain chance maybe Thursday or Friday.
Early Independence Day forecast looks hot.
"…so a return to the upper 90s is possible by the July 4th holiday."

-NWS Nashville AM AFD
Quick References:
Weather changes constantly.
Follow @NashSevereWx on Twitter for any changes to this forecast.
We are 100% community supported. No ads. No subscription fees. Keep it free for everyone.