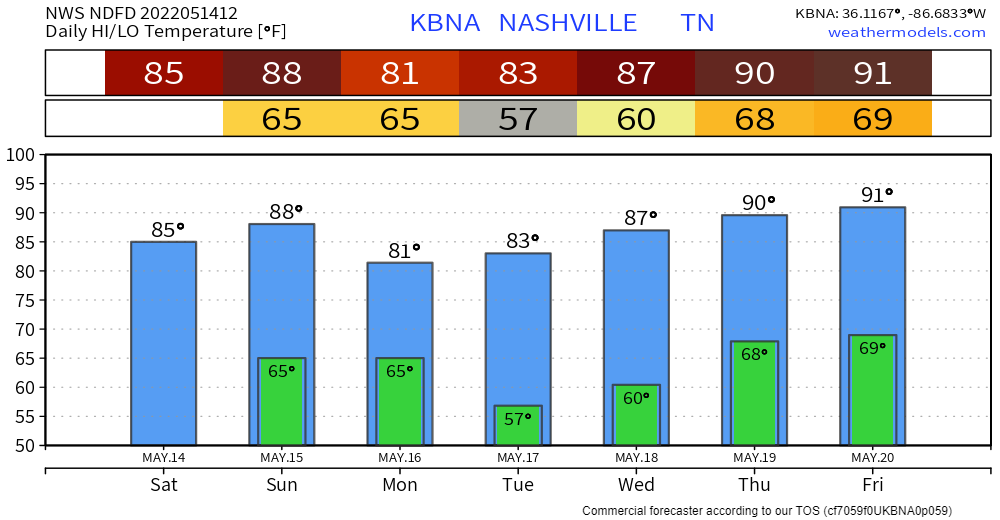 No record breaking heat today (we'd have to make it to 92°; that record was set many, many years ago in 2018). Mid 80's with low 60's dewpoints = you'll be a bit uncomfortable.
Extra deodorant swipe might be needed.
For all of you making the trip to beautiful Percy Warner for Steeplechase (and everyone else doing other various outdoor activities), the HRRR model thinks you're plans look rain free. Fair warning tho, these storms do not follow the models and will pop up at will. Keep an eye on the radar and/or our Twitter. It may still storm!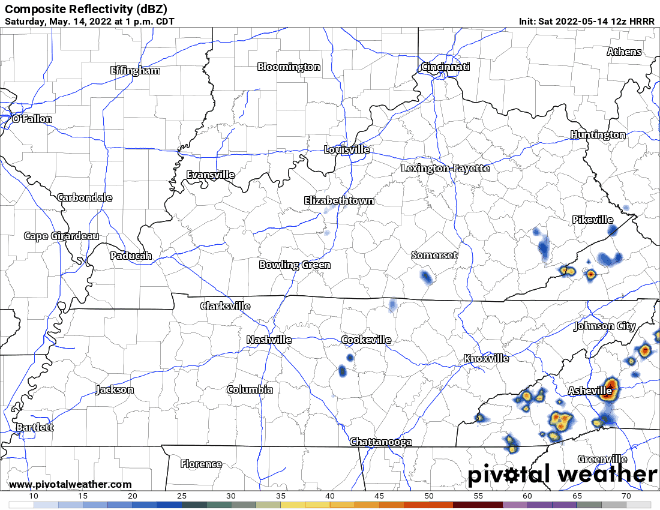 The Storm Prediction Center has us outlooked for a 5% chance of a damaging wind event within 25 miles of us. We aren't outlooked for hail, but I suppose a stronger cell could drop some lil' hail (not a bad rapper name). Make sure to have a plan if one of these storms decides to rain on your parade or horse racing. No tornado concerns.
Sunday, more of the same…
SPC has us in a risk 1/5 for the second day in a row with a 5% chance of hail and/or damaging winds within 25 miles. Again, no tornado concerns.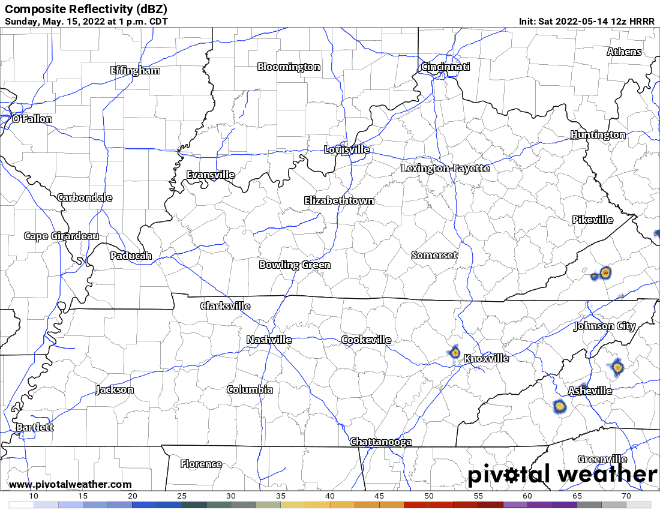 Similar to Saturday, the H-triple-R model shows most of the pop-ups staying to our east. They may pop up right over us, they may all dodge us, who knows. The stronger storms would carry the threat of damaging winds and lil' hail.
HRRR model then shows a line of storms riding along a front making it to I-65 by 10 PM, I'd put a +/- 2 hours on that ETA. Cannot rule out strong winds and some hail with this. Still not worried about tornadoes. Should be long gone before your Monday morning commute.
Heat Relief(!!)
The front from Sunday night will aid in relief from the heat and humidity. Monday and Tuesday look like the best days heat and humidity wise in a while. Temps in the low 80's with dewps in the low 50's. Enjoy while it lasts.
Rain chances return Wednesday, along with higher heat and humidity. Dewpoints creep back up into the 60's. Lows on Thursday and Friday may not make it below 70°…yikes.
Quick References:
Weather changes constantly.
Follow @NashSevereWx on Twitter for any changes to this forecast.
Live coverage during tornado and severe thunderstorm warnings:
Look good.
Support the mission.
We are 100% community supported. No ads. No subscription fees. Keep it free for everyone.