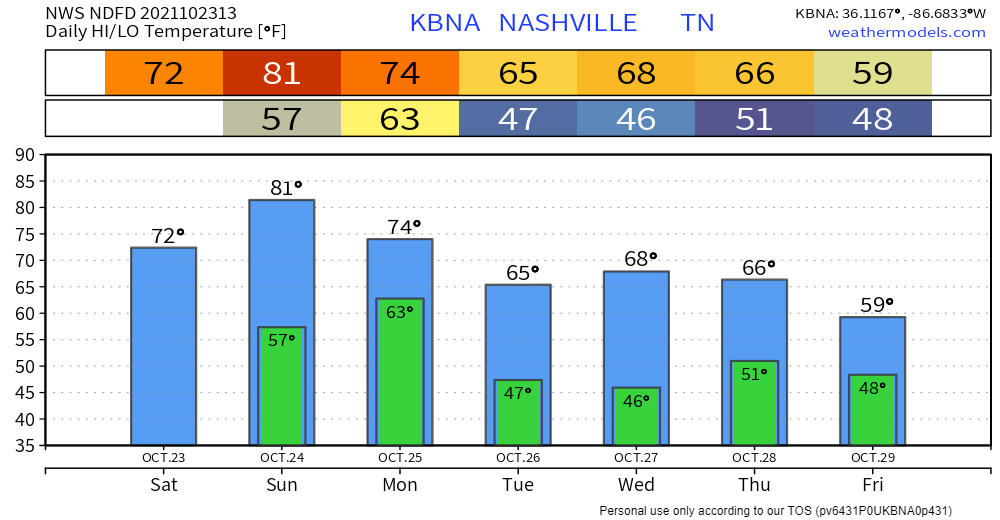 Another nice weekend is in store, with no rain forecasted. Sunday temps warm up to the low 80's, but with dewpoints in the upper 40's, it should save you from sweating. It also might be the last time we see 80° for a while, so enjoy. Perfect weather for Titans football.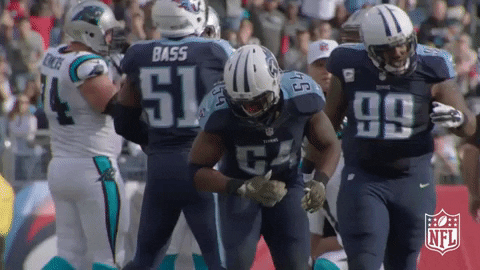 Storms (Severe?) Monday Morning
Storms will form in Missouri on Sunday and make the journey to our area, making it to us by sometime Monday morning.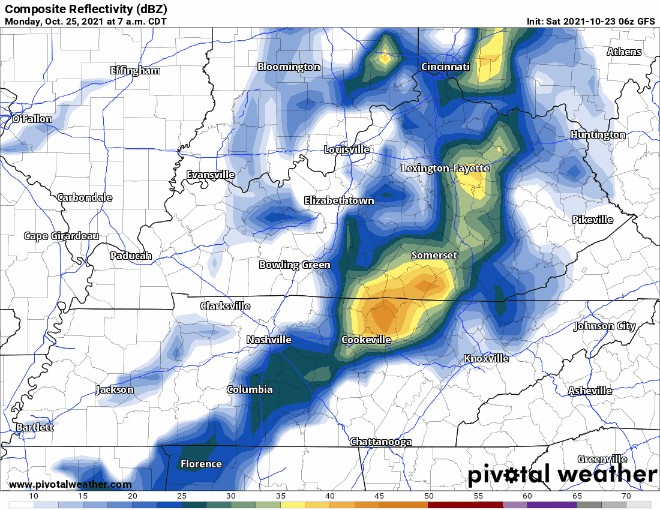 Above is what 4 different models think the radar will look like at 7am on Monday morning. They are all in decent agreement that these storms will impact the morning rush hour, bad timing.
The big question is how well will these storms hold together. Some models think these storms will outrun the CAPE (storm fuel) and weaken before they reach us. Others think they might hold together a little better. NWS Nashville notes the stronger storms do have a chance of containing some damaging winds and possibly an isolated tornado.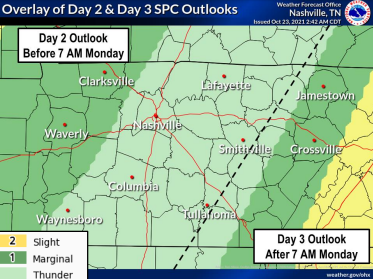 I think this graphic by the NWS Nashville explains the story really well. Currently, we are only in the general thunderstorm category, issued by the Storm Prediction Center. The current thinking is the storms weaken before they reach our area, then strengthen with the help of daytime heating, after they pass us. This is still a few days out, and a lot will change, be sure to check in with updates as the model data changes.
After this system moves through, the next rain chance looks to be Wednesday.
A Way Too Early Look At Halloween
Just about a week away is trick or treating. And right now, it looks fairly decent. Saturday night looks to be dry with temps in the low 50's. Sunday looks just about the same. Take this with a grain of salt, lots of things will most likely change.
As always, check back for updates to the forecast, and be sure to follow @NashSevereWx on Twitter!