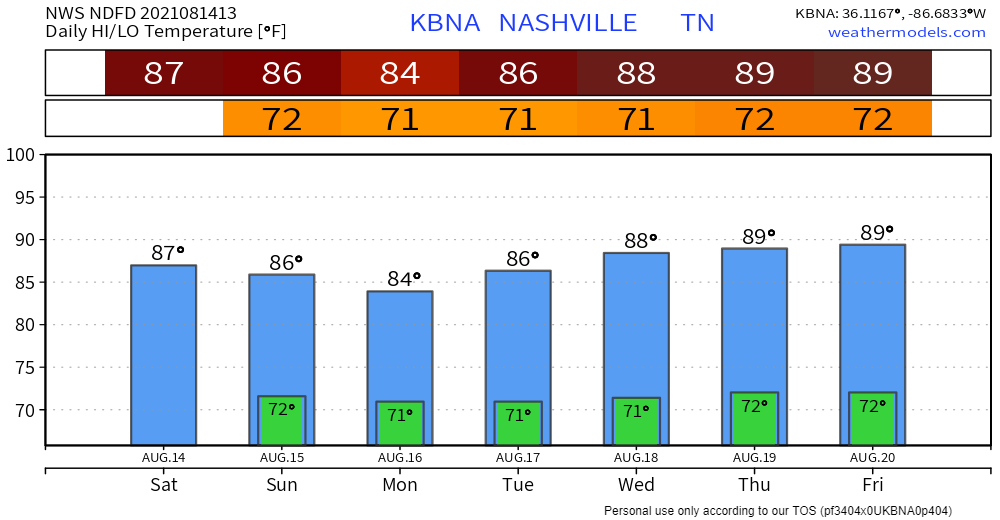 Fog this morning mixed out fairly quick. Here comes another day of hit or miss showers/storms and a little less heat than the past few days.
Similar to yesterday, storms should start popping up sometime in afternoon, then slowly start to dissipate by sunset. It is entirely possible you don't get any rain today, but if you do, a storm could contain some heavy rain, gusty winds, and lightning. A storm or two could contain microburst winds, similar to what parts of Nolensville saw yesterday. Microburst winds cause damage to low-end tornadoes. They are can be difficult to warn on because they occur between radar scans. No organized severe weather or tornadoes are expected today, or the next few days.
If you have outdoor plans, be sure to have a way to receive updates and have a plan if you happen to encounter one of these storms. If a storm decides to sit in one place for a while, or they train over the same area, some flash flooding is possible, especially for places that received a lot of rain yesterday. The WPC has given our counties a 5-10% chance of flash flooding for Saturday, Sunday, and Monday.
Sunday – More of the Same
Sunday is a copy and paste forecast from Saturday. Similar temps and more pop-ups in the afternoon.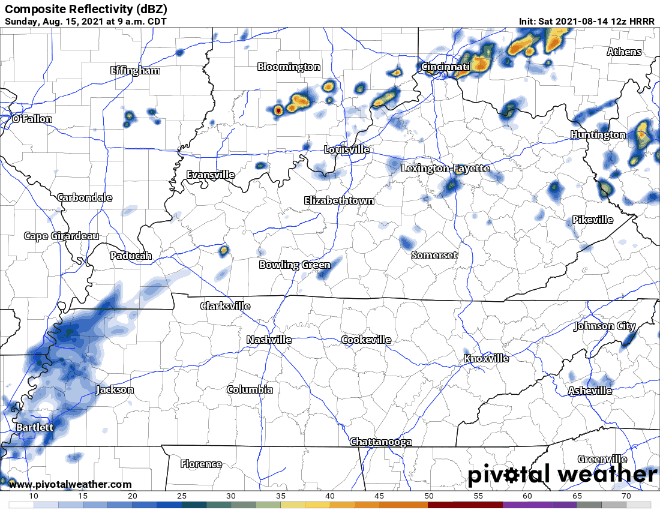 These storms could also contain strong winds, lightning and heavy downpours.
Just like what it seems like for every Nashville SC game, rain and storms look possible come 6 o'clock. It is still too early to be for sure about anything, so be sure to check back on the blog tomorrow for some more details.
Impacts from Fred?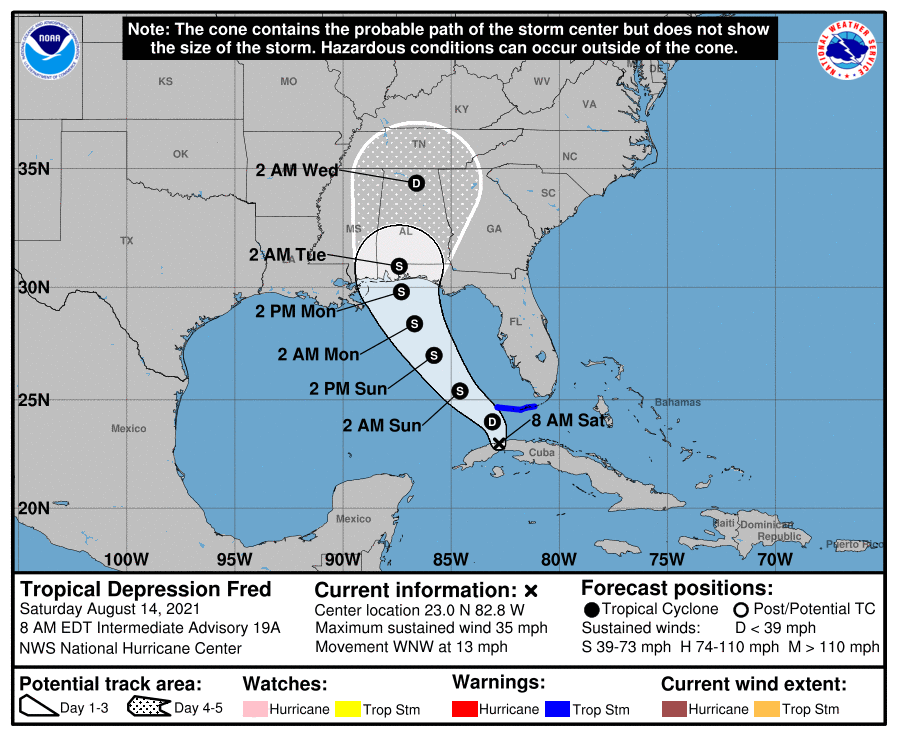 Fred is currently a tropical wave after moving through the mountainous terrain of Cuba, but is expected to re-develop sometime Sunday as it moves back into the Gulf. The current NHC cone has Fred moving into our area early Wednesday morning, but it would likely be a weak depression by the time it arrives. We are not "getting hit by a hurricane." Models are not completely set on the exact track, so it is possible Fred misses us entirely.
Regardless if Fred does impact us, rain chances are present throughout the week, and Fred would only increase our moisture, possibly meaning more rain. More on this as the details get sorted out.
The long and short of the seven-day forecast is generally dry conditions to start each morning, followed by daily afternoon thunderstorm chances.

NWS-Nashville, Area Forecast Discussion, 8/14/21