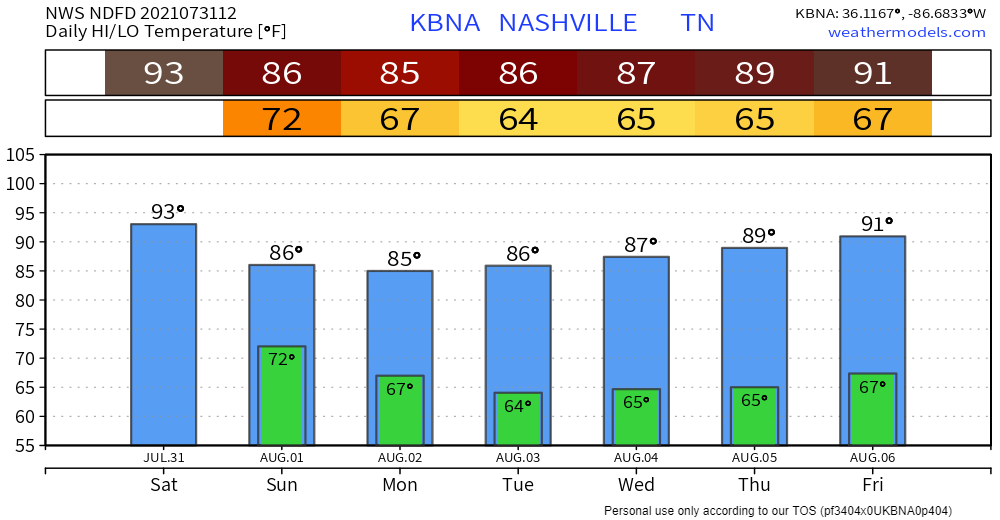 First things first, smoke and haze will continue today, as shown below, which has warranted an Air Quality Alert for both counties.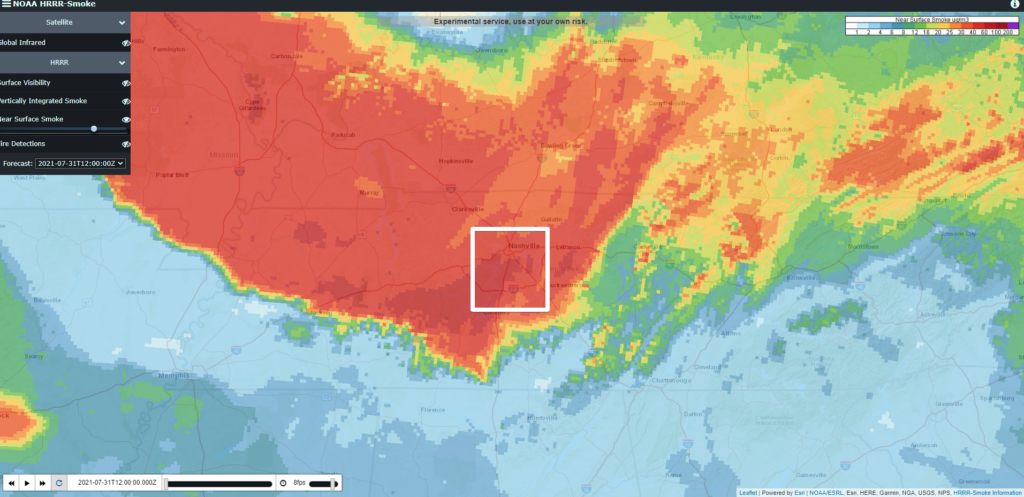 For the first time in a few days, our counties are not under a Heat Advisory, but it will still feel very hot and humid. Actual temperatures will be in the mid 90's and dewpoints in the upper 60's, which will lead to the heat index being in the upper 90's. Make sure to drink plenty of H20 and limit your time in the direct sun.
Storm/Flooding Chances
With a lot of outdoor activities going on in Downtown Nashville (Garth Brooks, Sounds game), a big question will be what time will the storms arrive? The ETA is very hard to nail down right now, and the models are not coming in much of agreement.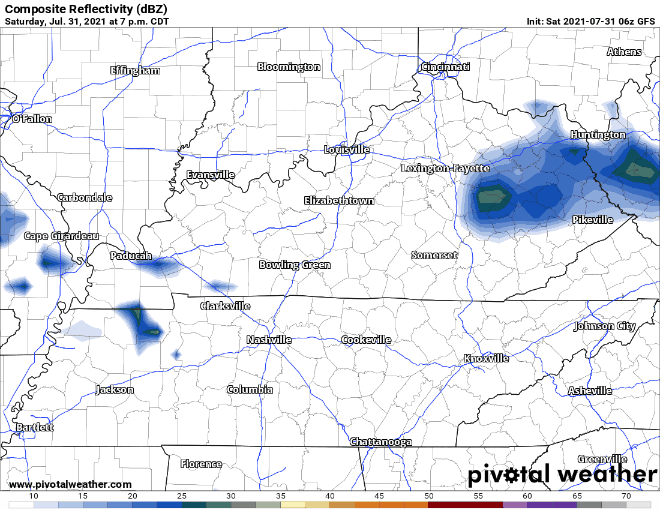 Here are four different models, all varying in their opinion on what the radar will look like tonight at 7pm. Most models do hold off on the main line of storms coming until around midnight, but these models also have some storms popping up in front of this main line. All of these models will likely change their mind throughout the day, so it is always best to keep checking back for updates on the Twitter.
Something that all four of these models do have in common is they all show the ingredients for heavy rains and possible strong to severe storms. All models show a very water-loaded atmosphere with precipitable water values around 1.5″ and plenty of storm fuel, with CAPE values at 1,500kg/J+. For this reason, the Weather Prediction Center gives us a 10-20% chance of flash flooding, along with the Storm Prediction Center giving us a 5% chance of damaging winds. Currently, we are not outlooked for hail or tornadoes. However, the National Weather Service in Nashville acknowledges that there might be enough shear to spin up a tornado.
"Low level shear/helicity is on the lower side, but should any storm become severe, an isolated tornado can not be ruled out. Main focus will be gusty winds and especially heavy rain/flash flooding potential tonight through Sunday morning."

NWS Nashville Morning Forecast Discussion
The main concern will be flash flooding and damaging winds. It will be very important you have multiple ways of receiving information/updates throughout the day so you and your friends do not get caught up in low places.
Clearing Out Sunday, Slight Cool Down For Next Week
Some showers might still be hanging around the first half of Sunday, but will clear out by the afternoon. We then get into a pattern of high temps in the upper 80's, dewpoints in the upper 60's, and maybe a passing pop-up shower in the afternoon.