Will they be severe? Will they cause damage? It's doubtful… But let's dive in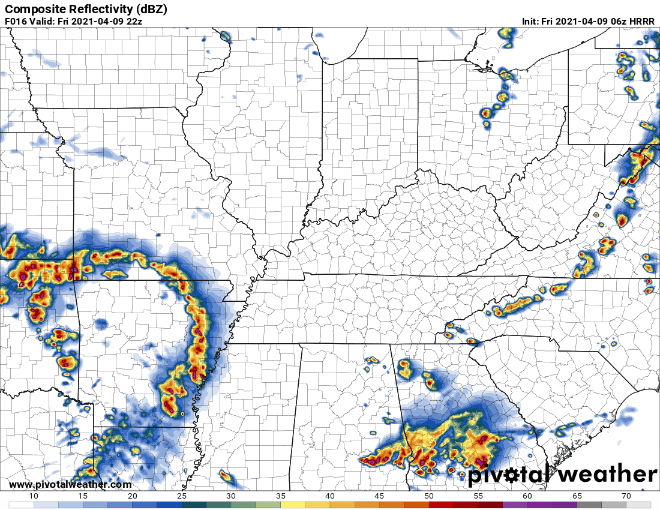 The Storm Prediction Center has put us under a marginal risk of severe storms (level 1 out of 5) for late tonight through early Saturday.
Much of the severe weather should stay to our west southwest, but we can't totally rule out a couple severe storms rolling through. One thing is for sure. We'll get some wind and rain. If storms do reach severe criteria, it will be damaging winds we have to worry about.
According to the SPC, we have a 5% chance of seeing 57 mph winds within 25 miles of a point.
There is a 5% chance for damaging hail within 25 miles of us as well.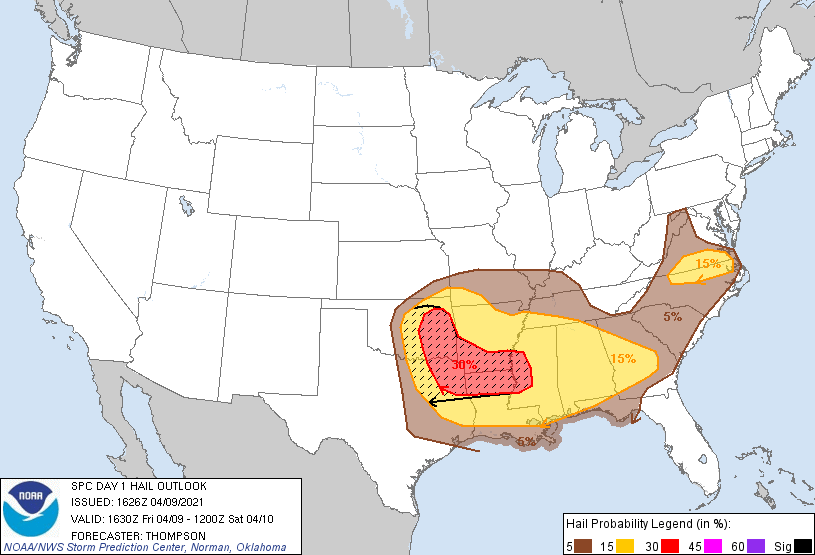 Let's take a look at timing in the graphic below.
In the 16z run of the HRRR model (above) you can see strong storms exiting the Memphis area (Editor's Note: Don't blame them) and headed this way. We don't think they'll be this intense when they arrive our two counties at around midnight (below).
We'll be here all night watching this line for changes. We expect less than .25″ of rainfall tonight/early Saturday. Will that be enough to keep your kids off the ball fields? Dunno.
Showers and Storms Continue Saturday Morning
The heaviest rain from the overnight wave should be out of the area before noon. Scattered showers and thunderstorms will continue through the afternoon and early evening hours.
We should be clear by 9 pm as shown in the HRRR Model (below) running from wee hours Saturday until Saturday night.
Saturday night after 7ish looks great with temps hovering around 70 and a clouds moving out.
The SPC has again put us under a marginal risk of severe storms (Level 1 out of 5) through the late morning and early afternoon Saturday. Damaging winds and hail will continue to be the main threats.
How much rain we looking at? Will it flood?
Probably not. By the end of the night Saturday, we could see anywhere between a half to 1 inch of rain.
Looking Ahead
Sunday will have spectacular spring weather. Hardly any clouds, and 70 for the high. The weather through Tuesday looks to bring us plenty of sunshine with seasonal temperatures (upper 60's to mid 70's). We won't have to worry about rain again until Wednesday or Thursday of next week.