Let's Get Down to Business
Our current thinking is that storms will come in two rounds. HRRR below shows round 1. We'll see rain begin to move into the area around 8 am. Although this will not be the severe weather event, we will begin to see high rain totals. Do not mistake this for the main event.
The more concentrated rain (round 1) will move out before 10 am and leave behind some scattered showers. This will last through the late morning hours. Rain may end. The sun may come out. Do not take this as "the storm blew over."
Round 2 – Severe Weather Threat Begins
Another wave will come in during the afternoon and evening.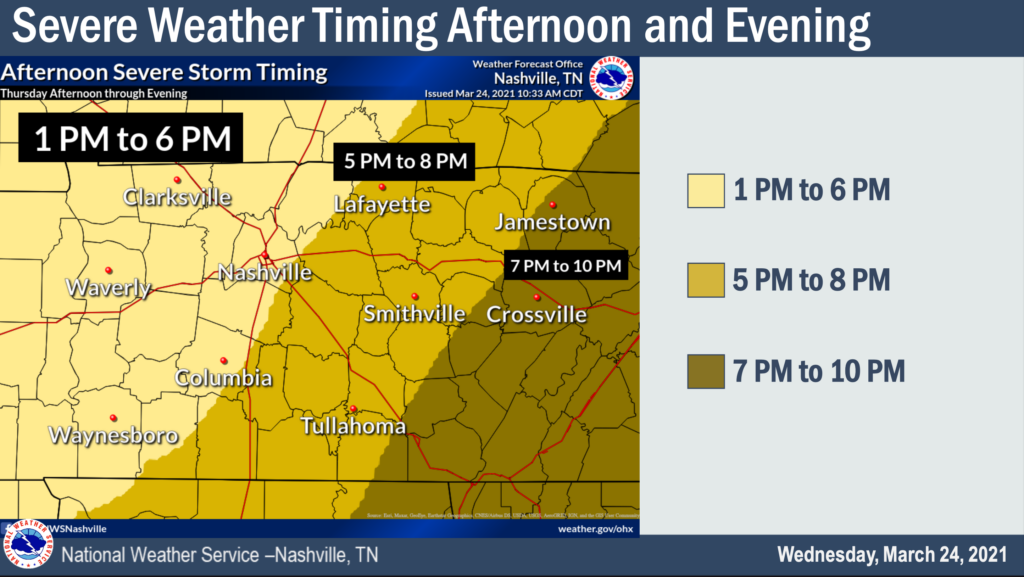 The HRRR model thinks the radar might look something like this.
The Storm Prediction Center increased our probabilities of seeing severe weather in the latest update at 12:30 pm today. We have the possibility of seeing all modes of severe weather. This includes damaging winds, large hail, flash flooding, and tornadoes. Both counties are included in a level 4 out of 5.
There is a "x" chance of seeing the following within 25 miles of you Thursday. Tornado – 15%. Significant Tornado (EF2 or stronger) – At least 10%. Damaging straight-line winds (58+ mph) – 30%. Significant straight-line winds (74+ mph) – At least 10%. Large Hail (1 inch + diameter) – 15%.
Uncertainties
Severe weather events like this are rarely come without uncertainties. Last week's severe weather threat came with many uncertainties. This one comes with fewer, but a couple still remain.
Will morning rain keep the atmosphere stable (like last week)? It's possible, but it is more likely that the unstable air makes it to us. We think our air will become unstable and have storm food available.
Will there be supercells in the afternoon or one main line? Models seem to think supercells may form ahead of a main line. The supercells would carry a tornado threat. The final main line would also carry a tornado threat, but also a more pronounced straight-line wind threat. We don't know yet for sure. The main message for today is to not be caught off-guard at any point tomorrow.
Forecasts will likely change. Stay connected. Check back tomorrow.
Flooding Possible
Aside from the severe weather, the possibility of flooding is also real. If you live near a creek, stream or river, be aware that water could come up quickly. Flash flooding is possible in Thursday's storms.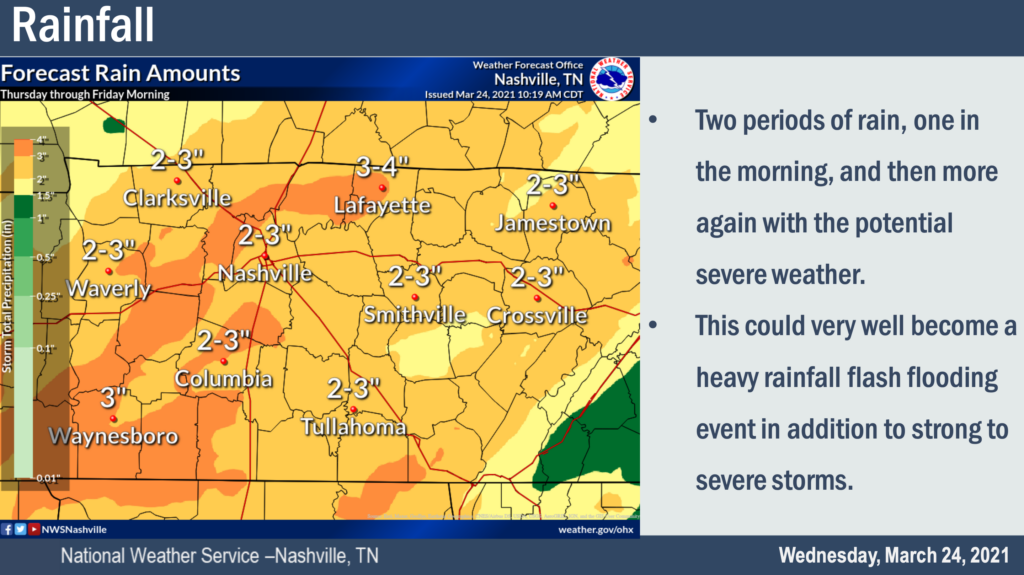 Today Is the Day to Prepare
Know where you are. We cover Davidson and Williamson Counties. Are you located in Franklin, Brentwood, College Grove, Goodlettsville, Joelton, Whites Creek, Fairview, Bellevue? Know where you are on a map. If we go on YouTube Live to cover warnings, we'll be calling out different locations across our counties. Know where you are. Check out a map app on your smartphone with your GPS enabled if you need help seeing geographically where you are.
Know the difference between a watch and a warning. A watch means conditions are favorable for severe weather. A warning means severe weather is imminent. If you live in a mobile home, don't wait to evacuate to a shelter until a warning is issued. By then, seconds count, and we don't want you driving into a tornado in your car while you try and get to your shelter. Maybe spend the afternoon and evening somewhere other than your mobile home…somewhere in a site built structure, business, friends' house, etc. But, don't wait until a warning is issued. Check this page out for more details. What To Do
We know this can be stressful. Anxiety is real. We've been through this before. It isn't fun. If you're feeling upset or anxious, we hope this might help. Taking Care of Storm Anxiety
As always, check back for updates to the forecast, and be sure to follow @NashSevereWx on Twitter!