Rain will run off and on today and tonight, then turn steadier Saturday morning. HRRR below: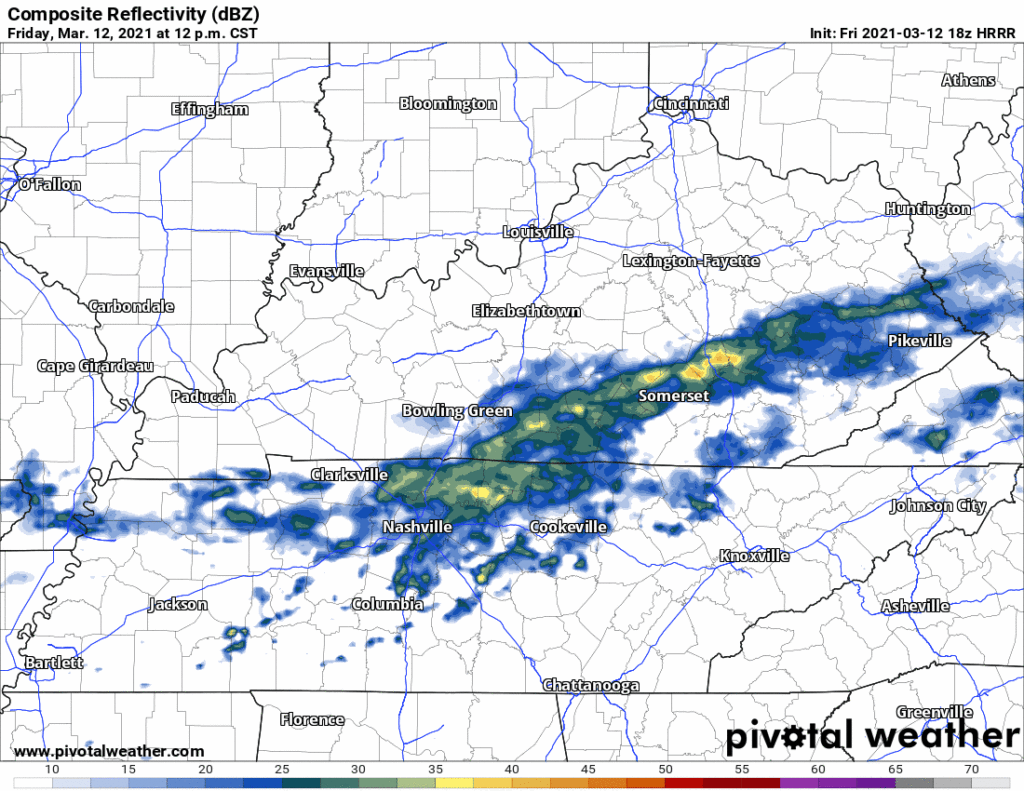 Rain should end around mid-afternoon Saturday.
This doesn't look to be a complete washout, but we will get a decent soaking. About 1/3″ to 1/2″ possible, with more rain the further north you go.
Heavier Rain (Maybe a Couple Storms) Monday
Next system arrives Monday morning.
Euro model has an early morning arrival:
The GFS model has a Monday later in the morning ETA.
If the line arrives in the morning, it should be in the form of rain and a few storms struggling to organize. There will be very little instability to fuel them. That will keep them weak.
Storms may be stronger if the storms arrive closer to the afternoon. By then, more instability will have time to build, but even then instability looks really weak. Too weak for concern, despite very strong wind shear.
SPC has us outside the severe risk area for Monday:
Rain totals will run about 1/2″ to 1″.
Stronger System Wednesday?
Another wave of showers and storms is expected to come through Wednesday, probably Wednesday night. It may have teeth.
On Wednesday, an even stronger low pressure system will approach Middle Tennessee, and with the cold front not coming through until Wednesday evening, this one may be better timed for severe storms across the mid state. Already the GFS & Euro models are in good agreement regarding timing and placement of the low, so we will have to watch this closely in coming days.

NWS-Nashville, 3/12/21
Still a lot to sort out here. The key is in the details, but models aren't running at a sufficient resolution to reveal those details.
By next Friday (March 19th), the National Weather Service expects around 2.6 inches of rain to have fallen.
A cold front is expected to come through by the end of next week, which will help to bring those temps back down to normal.