Off and on rain will continue through Sunday afternoon into tonight. Light and nondisruptive, not a washout.
Heavy Rain Overnight into Monday Morning
The HRRR model thinks the heavier stuff will arrive around 4 am. Either way, this is an early shift / while we sleep heavy rain event, almost 1″ expected. Isolated storms possible but nothing severe or concerning. Sleep peacefully tonight.
Monday Afternoon/Evening Storms?
Expect off and on daytime rain Monday.
Notice the line of storms lining up a little bit after dark Monday evening. HRRR model:
---
Temps will soar Monday afternoon (near 70°). Dewpoints won't be far behind. The reason? A warm front will push north across Middle Tennessee.
Storms feed off moist air. Concern will rise if our dewpoint gets close to 60° tomorrow. Cheer for mid 50°s dewpoints.
---
Sunlight breaking through the clouds and showers Monday would add instability and set the stage for severe storms when the line comes in late Monday.
Once we do get in the warm sector, our temps will be well above normal and possibly even some sun pops out, which could elevate our instability in the afternoon. thus we will have to wait and see how this evolves.

NWS Area Forecast Discussion
So if we get sunlight for long stretches Monday, hit us up on Twitter. Chances are we'll be talking about our concern levels.
---
Storm-making shear will be plentiful as the line arrives. Shear is key to severe weather: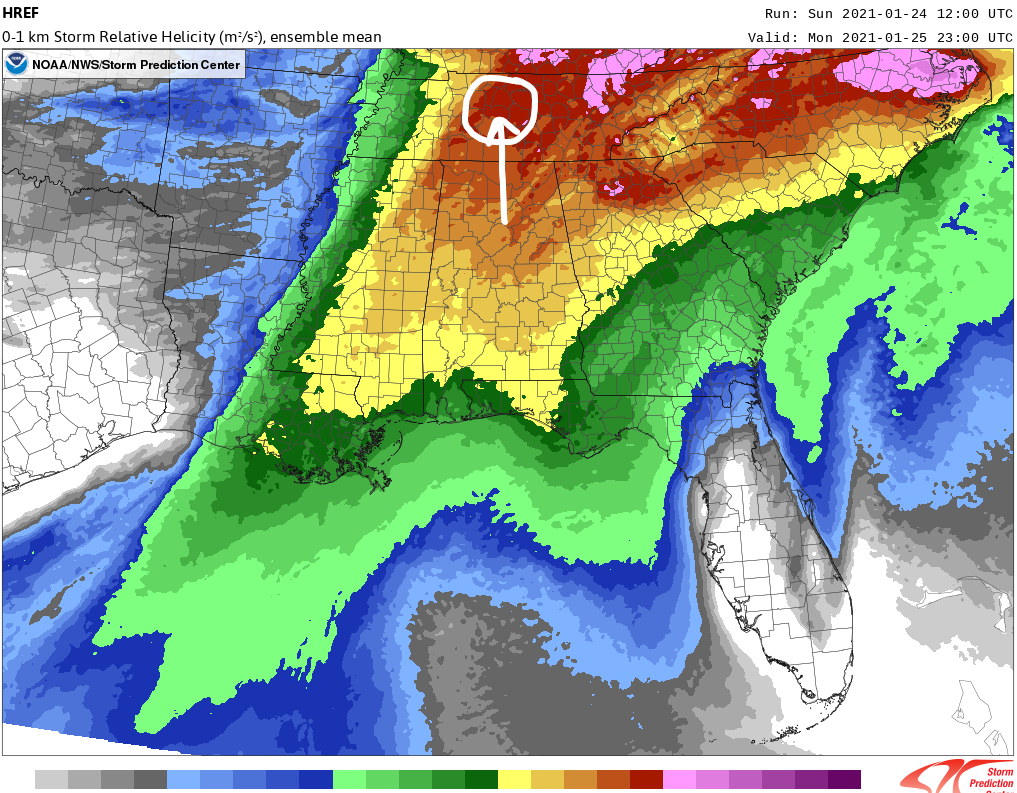 But shear isn't the only thing a storm needs to go severe. Instability is essential.
Shear without instability is like Robin without Batman.
---
ETA on the storm line is uncertain. The line could come through Monday late afternoon or at night.
---
Editor's Note: I have no reason to worry about this event right now, but we need to keep a close eye on it. Looks like this event will have insufficient instability to cause a damaging storm event.
One "summary" model datapoint is the Significant Tornado Parameter (STP). It's below, showing the probability STP will score a "1." For us that probability is 50/50, but a "1" is not an alarming number on the STP scale.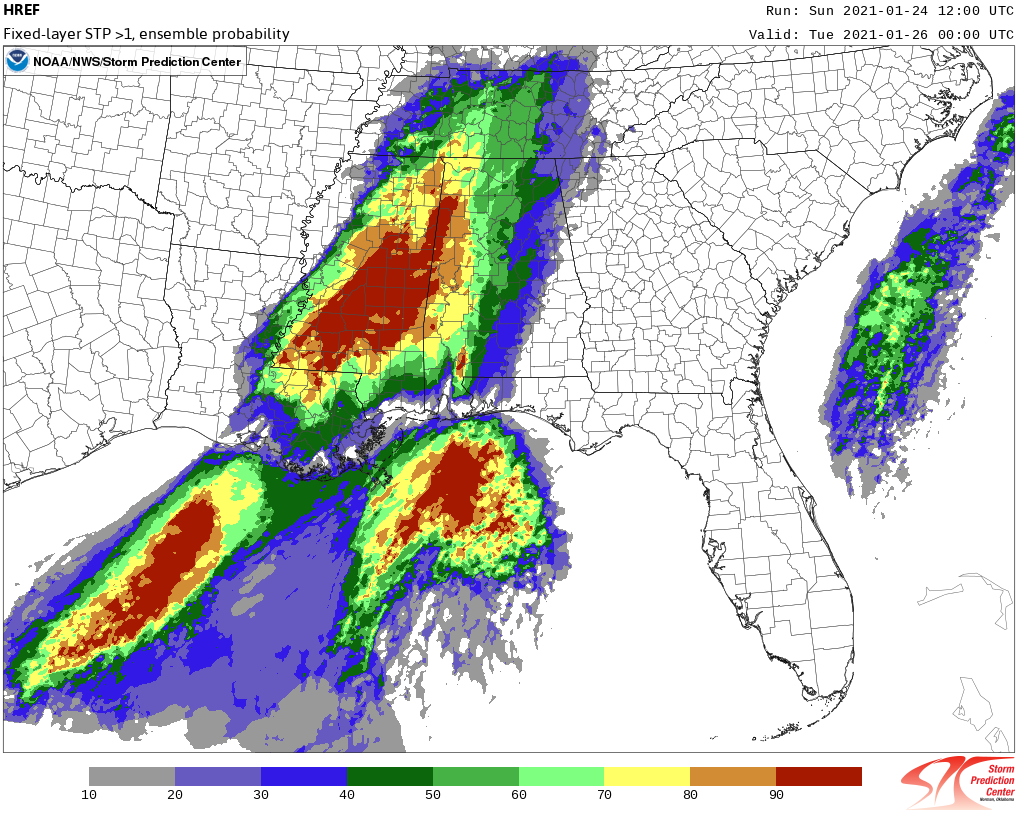 Meh.
Most models show insufficient instability to cause tornadic storms Monday. It makes sense instability will be too low. We'll have had a soaking rain Monday morning, clouds should be numerous, blocking sunlight which would add to our instability. Notice below surface based instability looks really low. That's comforting.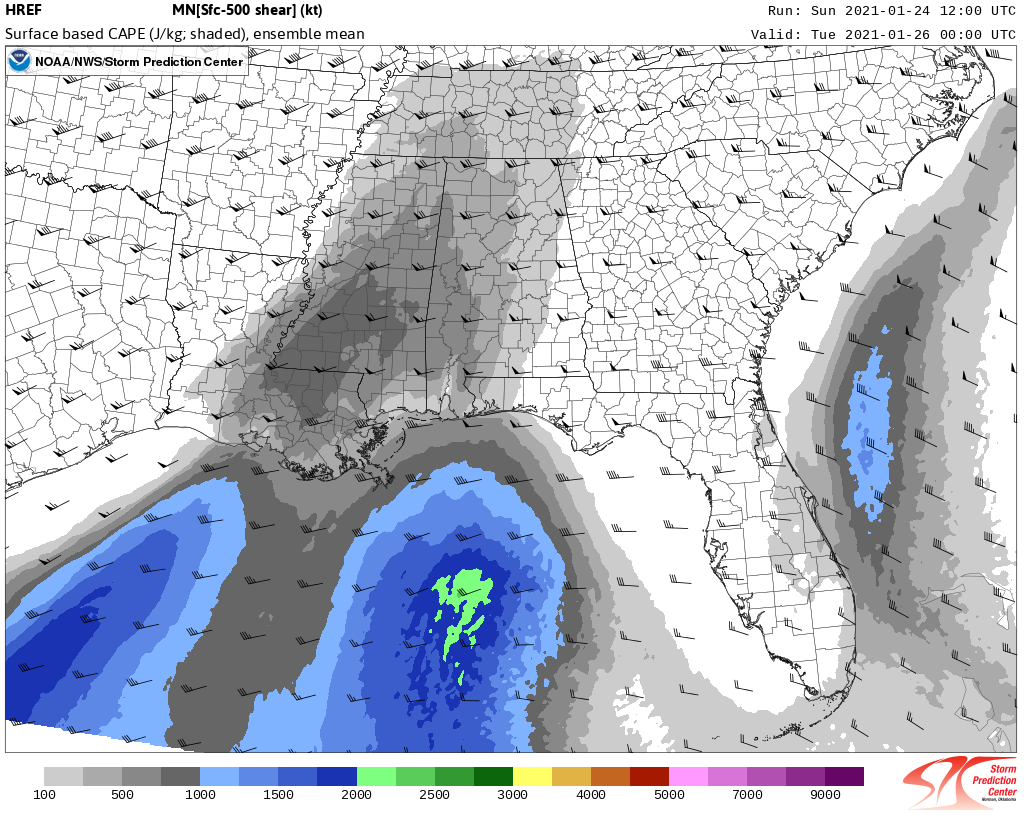 The few models that show a low-probability tornado threat assume a dewpoint around 62°. This seems far-fetched.
There's more. Many models show a low level temperature inversion such that, if everything bad that could happen in our setup were to actually happen, a damaging straight line wind or small hail event would be more likely than a tornado. And even then, the damaging straight line wind and/or hail threats look meh.
That's what we think, right now. Tornadoes happen in January. Damaging straight line winds happen in January. So does hail. And forecasts can and do change. Plug into multiple reliable sources for updates and new information tonight and through the day Monday.
But right now I feel OK about this.
---
This system will bring a good soaking to the area. The National Weather Service predicts between an inch and an inch and a half of rain will fall. There could be some locally higher amounts. Flooding is not expected.
Wednesday
A fast moving system will come through Wednesday, which could bring some scattered showers to the area Wednesday afternoon/night. This doesn't look to be a washout event. The GFS model spins in some mixed/frozen precip but other models do not agree. Even if the GFS is "right," no accumulation for us.