(Sunday's forecast for Monday's snow wasn't horrible, wasn't great. Looked like SE Will Co could get clipped and that's what happened. The "place" forecast was good, the "amount" forecast was not. All the models "missed" this event, a reminder that weather models are not forecasts. Forecasts are not truth. Future prediction is hard. The arrogant forecast will be humbled. –David.)
Here's what we got yesterday. This is a preliminary map from NWS-Nashville: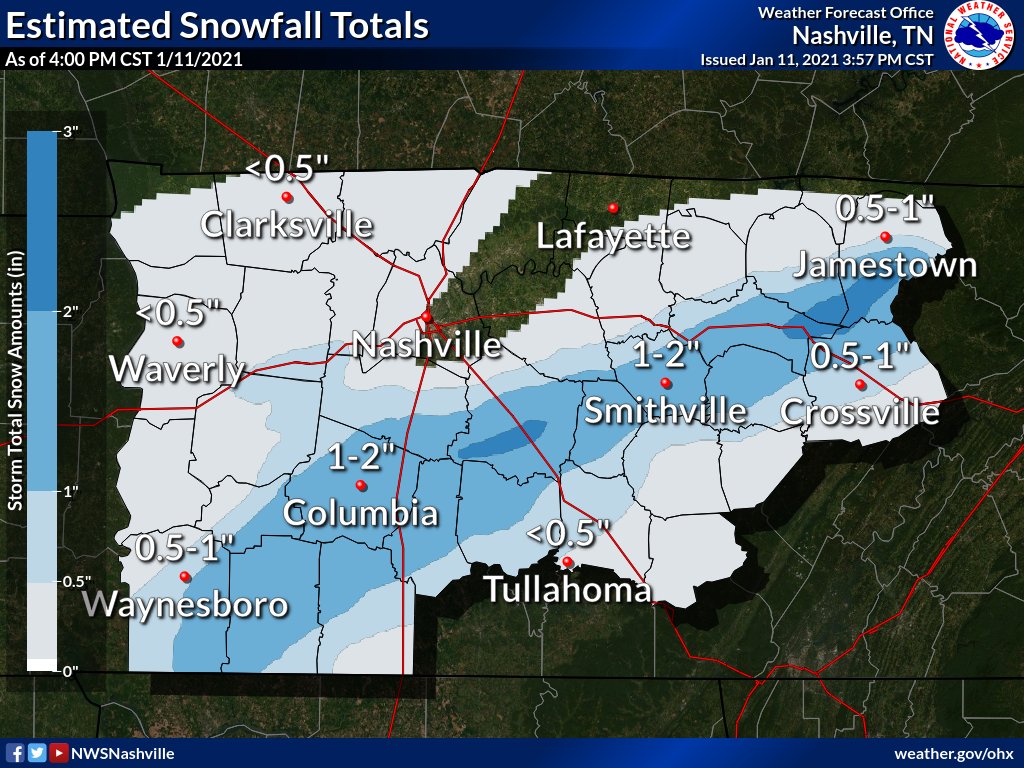 Along and south of I-840 saw close to 2 inches:
BNA reported 0.01 inches of precipitation.
We have not had a Winter Storm Warning (3″ or more), in well, it's been a minute:
Rain/Snow Saturday?
Through Thursday, everyday will be looking about the same: sunshine and warmer temps.
Another system is expected to move through Friday night, bringing another wave of cold temps with it.
Models don't look impressive right now, but there is a chance of some showers rolling into your neighborhood during the overnight hours Friday night into Saturday.
Could this make snow? Maybe? Here's what the National Weather Service has to say about overnight Friday into Saturday morning:
Cold air will arrive quickly behind the front on Friday, so will need to keep an eye on the temps to see if this moisture will come down as rain or a rain/snow mix. Saturday becomes a bit more interesting with moisture as temps would certainly be cold enough for the predominant precipitation type to be snow.

NWS Area Forecast Discussion
This event is still several days out, and models have been inconsistent with this system. More on this tomorrow, and on Twitter throughout the day.