Nothing much to talk about today: clear skies, plenty of sunshine, and high temps near 55°.
Clouds will begin to move in overnight.
Rain Wednesday Night into Thursday
Wake up to around 38°. Afternoon highs in the lower 60°s .
Through the afternoon, a shower or two could roll into your neighborhood ahead of the main line. Golfers should expect wind gusts to 28 MPH. Protect feeble inflatable Santas.
By midnight, that line will be making its way through the area, bringing a pretty good soaking with it.
Three-quarters of an inch to an inch of rain is possible.
Could the Rain End as Flurries?
Rain will continue Wednesday night into early Thursday morning. This rain is associated with a cold front, bringing arctic air with it.
Models have been back and forth about whether this arctic air will catch the precip early Christmas Eve morning.
The below 6z run of the Euro model shows the chance of some mixed precipitation (pink area) at around 7 am Thursday, then transitioning into snow (blue area) before 9 am.
A brief changeover from rain to snow Thursday morning is also seen on the GFS model: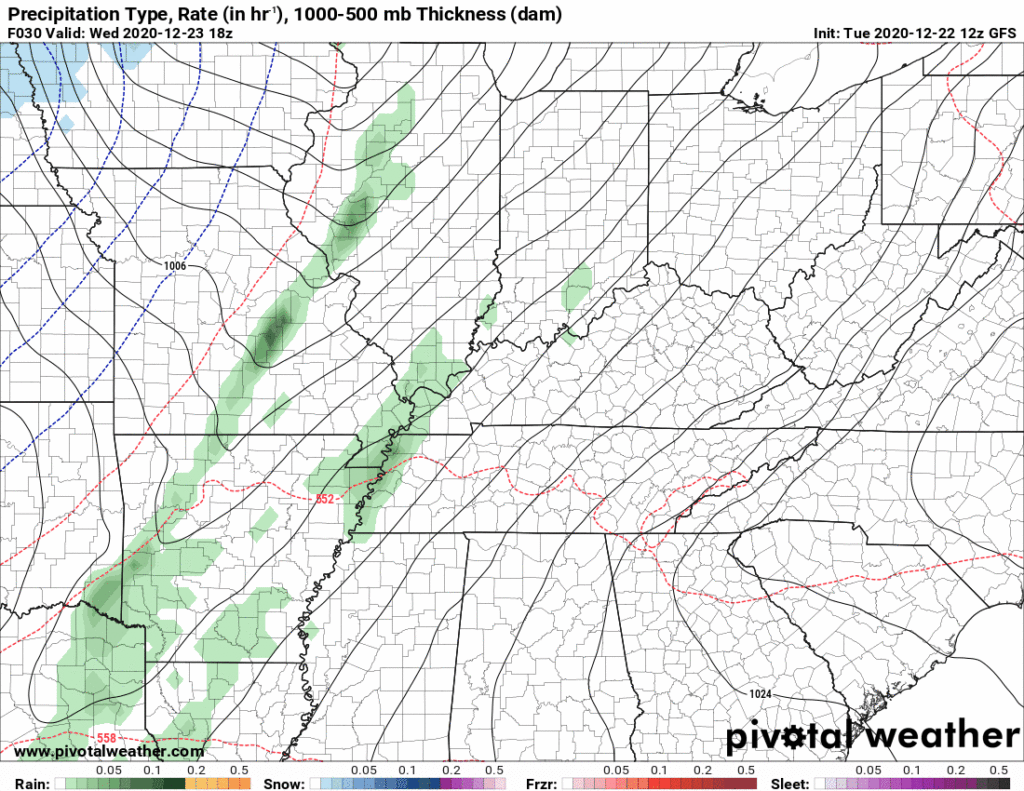 Editor's Note: forecast soundings for this event are all over the place. While editing this blog, brand new data dropped, below is the 12z Euro. Snow fans won't like it. While the vertical column is cold enough for snow, there is seen dry air aloft with relatively low PWAT scores, with the moisture axis pulling east. So I am not sold on seeing flakes with this event. Remember this is a Common Happening, a snow event falsely premised on the precip lingering long enough to be "caught" by the arctic air.
If a rain to snow event happens — and it might not happen — flakes will hit a warmer, wet Earth, and melt almost immediately. Surface temps are expected to be around 37° when the Euro model suggests snow forming.
Thursday afternoon's high is 40°, so any flakes that sneak in Monday will certainly melt. We may get a temporary flocking on grassy, shaded areas. That said, there is a lot we don't know right now, so we are keeping an open mind and trying to reject known conscious and subconscious biases without allowing our minds to wander off into fantasyland. At the time of this writing it is difficult to imagine anyone making a snowman of consequence, or sledding.
All precipitation should be out of the area before lunch Thursday, most likely well before then.
Temps will nose dive below freezing, then fall hard into the 20°s after dark on Christmas Eve. Anything still wet should freeze late Christmas Eve into Christmas morning.
Cold Christmas Day
You may want to crank up the heat Christmas Eve: temperatures will take a nosedive with the Christmas morning low around 19°. Some local areas will be in the mid-teens.
It will be dry and sunny through Christmas afternoon, but high afternoon temps will be hanging around freezing. If you get an outside toy get ready to get cold.
Clear conditions will continue into the overnight hours on Christmas, lows in the lower 20°s.
Looking Ahead
Another cold front is expected to move through Sunday night. This system will bring more rain to the area Sunday night into Monday.
Here's what the National Weather Service has to say about this system:
This front will also bring another shot of precipitation maybe late Sunday but more so Sunday night into Monday as it passes. We could again see a change-over to a rain snow mix early Monday morning but this scenario looks like most with cold air chasing vacating moisture so accumulation again looks improbable.

NWS Area Forecast Discussion
Rain could linger into Monday, but we should primarily see a dry start to next week.