12°
That's roughly the difference between the average high temperatures for today and the high temps we're expecting.
On average for today (December 9th), we'll usually see high temps near 50°.
However, we could see temps reaching around 62°.
Clouds will move out during the morning hours, giving way to sunny skies this afternoon.
Clear conditions will continue into the overnight hours with lows near 37°.
Warming Continues
Thursday and Friday look a lot like today: above average temperatures with plenty of sunshine.
High temps will continue to be in the mid to upper 60s for both days, with some locations possibly even seeing temperatures in the lower 70s on Friday.
Rain Returns Saturday
We could begin seeing some showers form ahead of the main line by midnight Friday and into the very early morning hours of Saturday.
The line should begin to move through the area by 8 am. Rain will linger through the morning and afternoon hours, then exit around 6 pm Saturday.
No severe weather is currently expected, but there could be a few rumbles of thunder.
Right now, this doesn't look to be a washout event. Less than an inch of rain is expected.
Looking Ahead
After the cold front moves through Saturday, temps will drop considerably.
Highs from Sunday into Tuesday look to be in the upper 40s, with some showers hanging around through Monday.
Lows Sunday night will reach around 31°. The Euro model currently shows a wintry mix developing at around 6 pm Sunday, then transitioning into snow by midnight.
Editor's Note: [C'mon Euro. You're stirring the pot. So, you're telling me that you've been forecasting early next week for several days now, multiple times a day…and you've just now decided to throw in a random winter weather event? That makes us skeptical of you Euro….very very skeptical.]
Here's what's happening. Basically, the Euro is forming a low pressure system in the Gulf Coast states.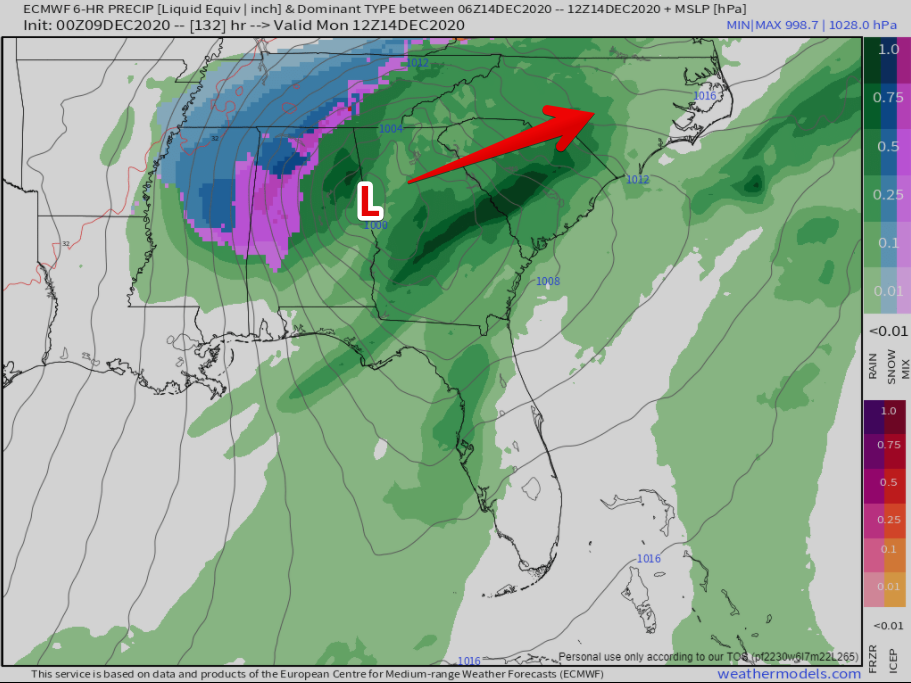 The GFS isn't. At all. Nothing. Zilch.
So, we're left to make this conclusion. Don't make a conclusion. Meteorologists don't eat the bait when these kinds of model solutions present themselves. They wait for models to become more consistent with each other.
Would it even stick? Let's just pretend for a second the Euro is on to something. It's own soil temperature model shows 38 degrees when the frozen precip begins to fall.
Then, as precip leaves, the Euro thinks Nashville's soil temp is up to 40 degrees. My skepticism is increasing even more.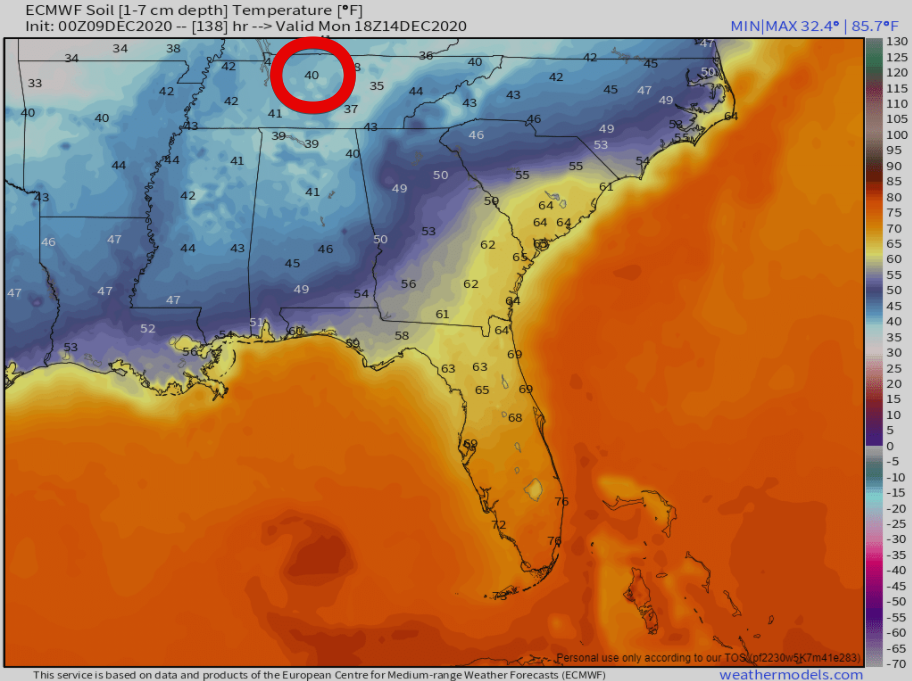 Let's see how this plays out over the next few days. There will be huge amounts of data available to help the forecasting process. For now, we enjoy our grain of salt.