We'll hit 36° at BNA early Tuesday morning, many of us will be colder so expect frost and a few hours of freezing Tuesday morning. Clouds and a south wind will warm us up Tuesday as we watch the next storm system expected Wednesday.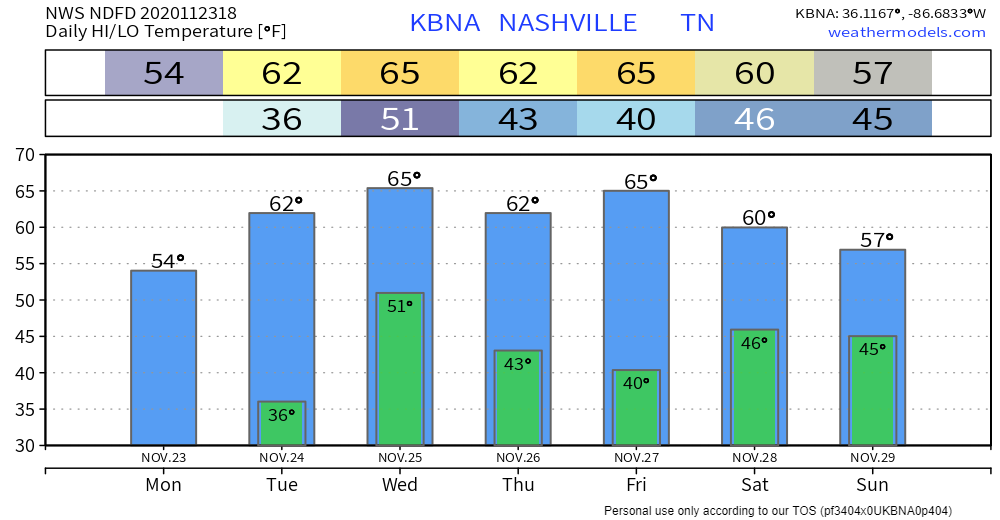 ---
The Storm Prediction Center today posted a 5% probability of a severe weather event happening Wednesday to anyone within 25 miles of the brown area below, us included: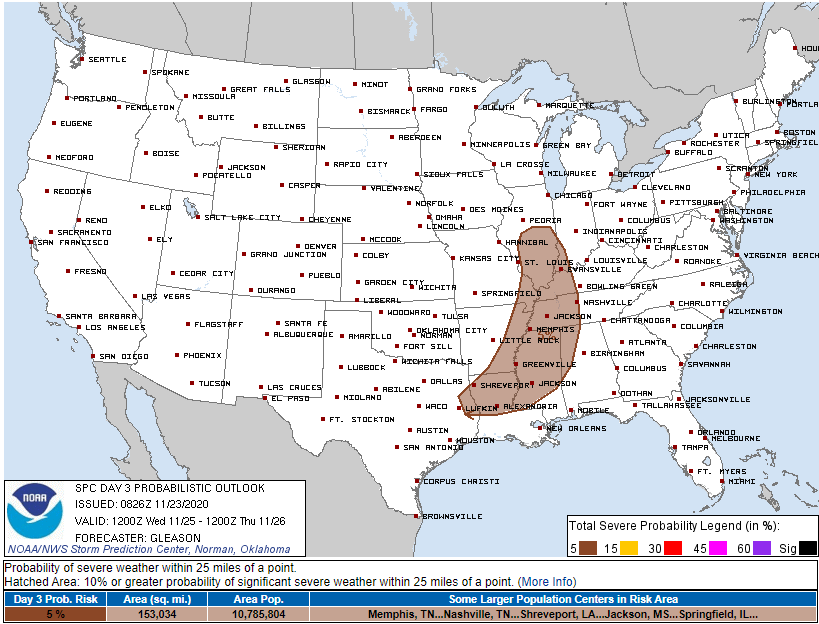 This severe weather system is common in November and the cold season in general. A powerful trough will swing north of and deliver us plenty of shear — wind changing speed and direction with height — as suggested by this GFS model run below: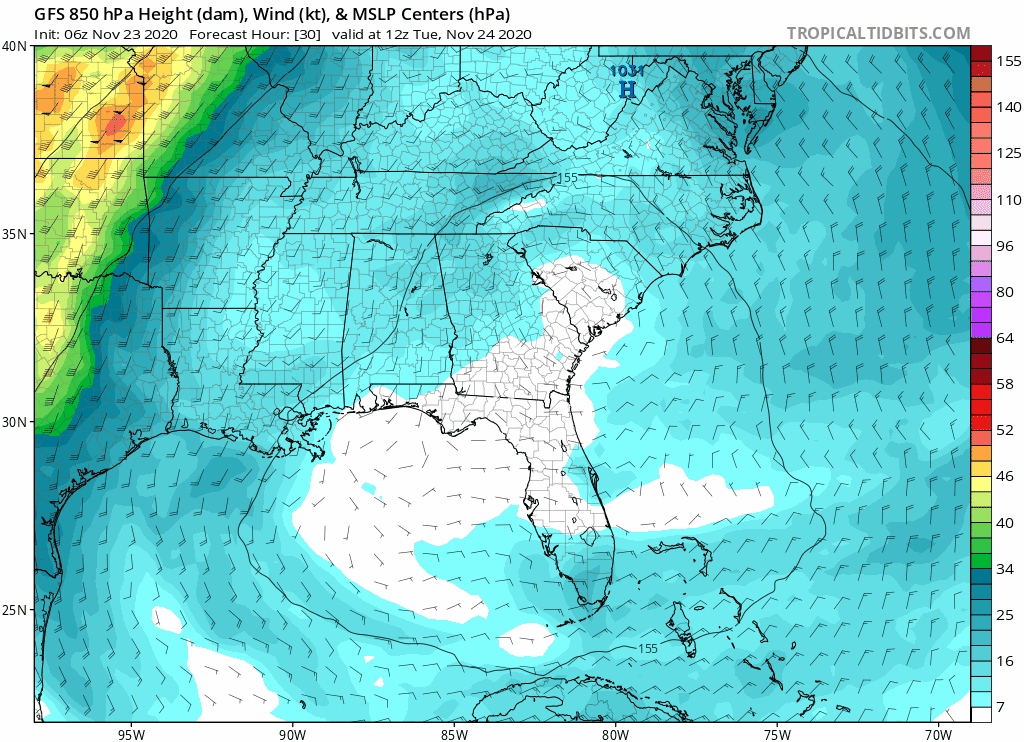 Shear is only one ingredient needed to make severe weather. Instability is the other. Wednesday it appears instability will be weak, but models are suggesting there may be just enough to cause severe thunderstorms.
Below is the nerd data. This data shows very little instability.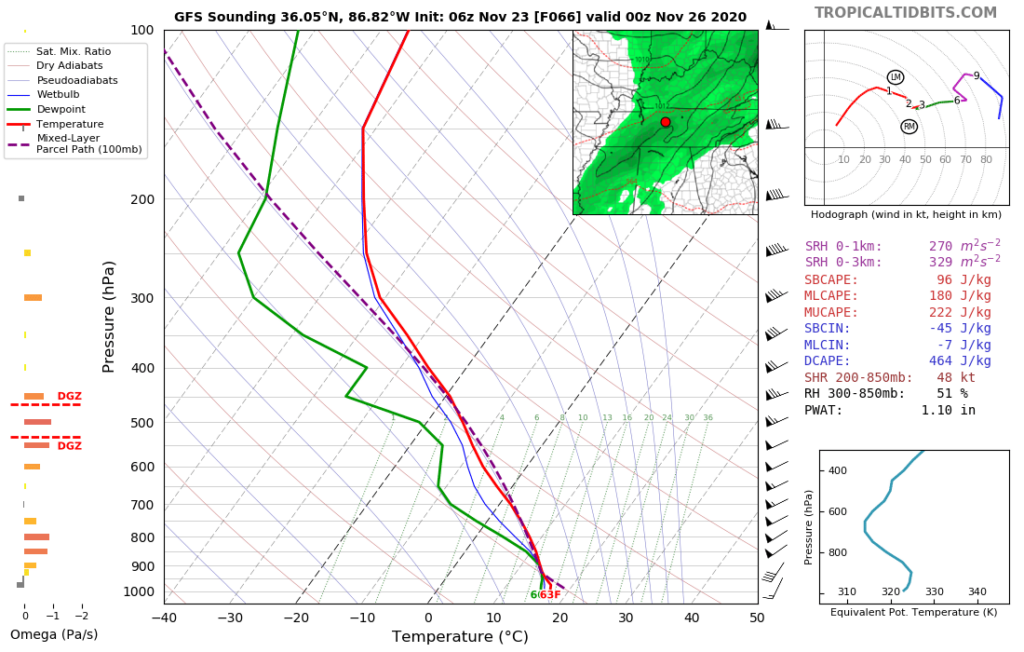 Below we see instability (CAPE) barely even register, under 500 j/kg.
Many severe events like this "bust," meaning, they don't produce severe weather. Instead they just make rain and strong straight line winds. Less often, these conditions create tornadoes. Forecast data 48 hours out is inconclusive about whether we will have enough shear/CAPE to cause severe storms and/or tornadoes. We have had tornado and severe wind days in sub 500 j/kg CAPE events like this one, but usually it's a whole lot of wind and rain.
We wish the science could better predict the future here.
For now, if we get severe weather, it's more likely to be straight-line severe thunderstorm winds. A tornado is less likely. Hail doesn't look like a hazard (so far).
Timing
Looks like a daylight hour ETA. We hesitate to be more specific than that because the data contains no clear signal. Here's the Euro model suggesting a daytime ETA.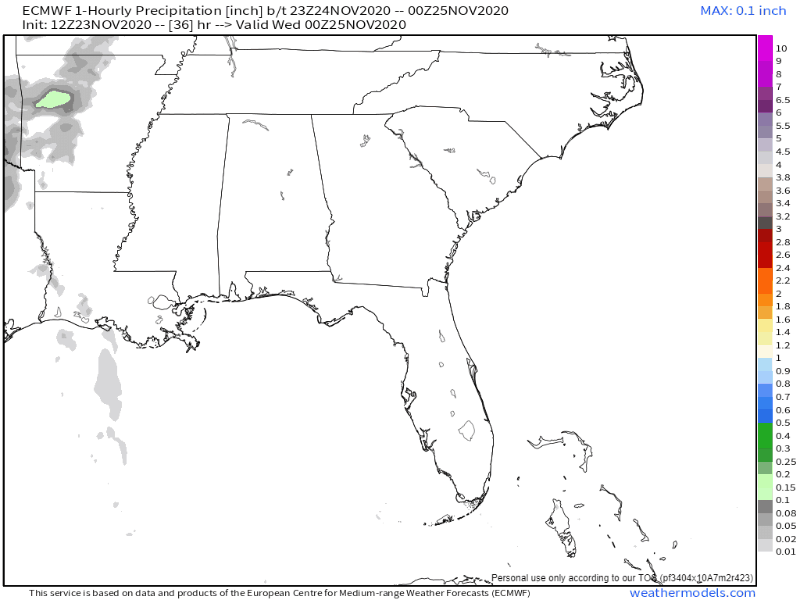 ETAs will be updated several times between now and then.
Rainfall Amounts
We could also see anywhere from a half to three-quarters of an inch of rain. There could be locally higher amounts from downpours. Heavier rain Wednesday will be north of us.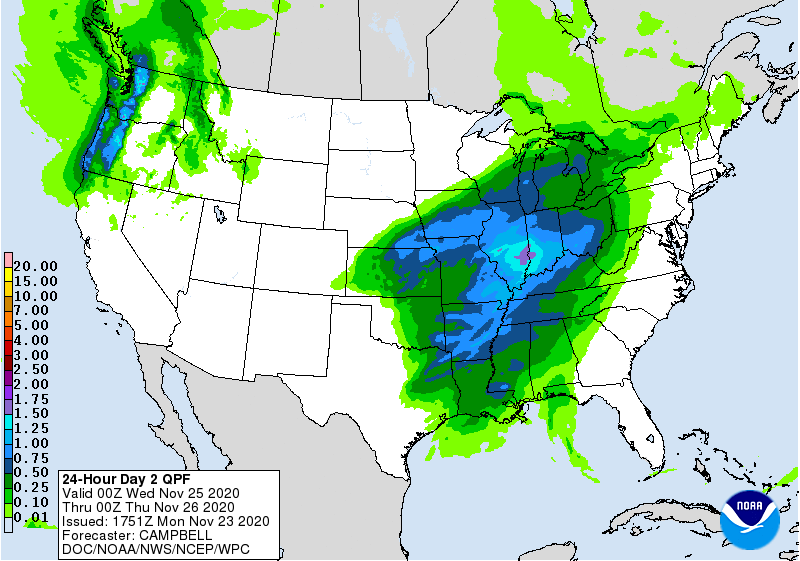 We will update the severe weather outlook tomorrow and Wednesday here on this blog, but more frequent updates will be found on our Twitter @NashSevereWx.
---
Thanksgiving looks rainless, but rain chances return late Friday and continue into the weekend. "Another strong low pressure system may affect Middle Tennessee this weekend as we transition back to a wet pattern." –NWS-Nashville.
Look for about 2.15″ of rain total, including Wednesday's rain and rain from the weekend.