Delta made landfall last night as a Cat 2. It hit the Louisiana coast, and has since traveled towards the northeast, weakening into a depression.
What Does This Mean for Us?
Rain. Lots and lots of rain.
Many of us have already seen some of that rain this morning. Below is the radar loop for 11am.
We could, could, be getting a small break during the noon hour, then it will ramp back up in the afternoon.
Some storms could form during the afternoon hours. Much of the severe threat will stay to the south of us, but we can't rule out a stray stronger storm from forming in your neighborhood.
Our main threat will be rain totals. We'll be looking at 1.25″ to 1.5″ today with some locally higher amounts.
We'll also be seeing some 10 to 20 mph winds today, with some gusts up to 30 mph.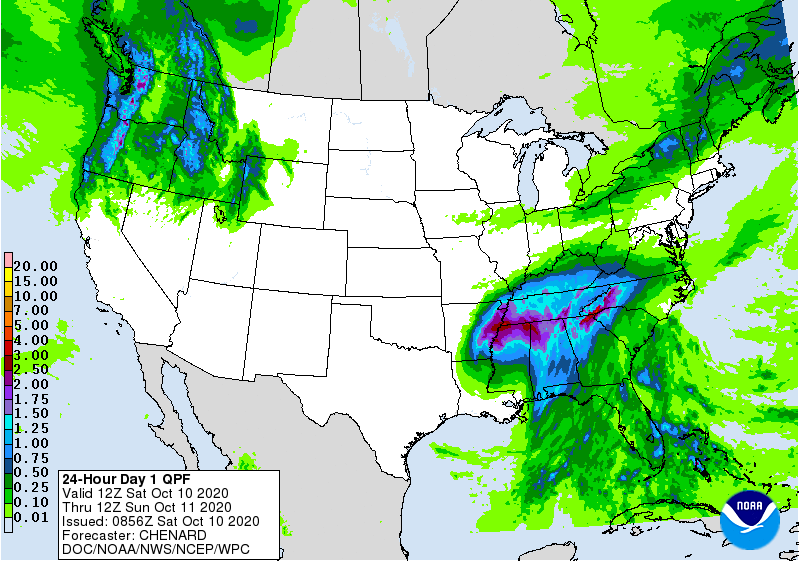 Here's the Day 1 QPF showing areas of highest rainfall today in purple. We've got mostly light blue with a few dashes of purple around. If a purple comes over your house, you'll know it. Good idea to keep an eye on low lying areas.
Clearing Out on Sunday
Rain will continue to hang out into the morning hours for Sunday as Delta moves east.
The heavier rain should be leaving the area by 10 am.
(Editor's Note) Good news if you have an outdoor wedding tomorrow afternoon. Best wishes, B!
We should be looking at some cloudy skies throughout the afternoon Sunday. But I wouldn't rule out a small isolated pocket or rain in Delta's wake.
We could see anywhere from 0.1″ to 0.25″ of rain for Sunday with some locally higher amounts.
Looking Ahead
It's looking like some more sunshine is on its way for next week!
Beginning Monday, we should be seeing some partly sunny skies and temps in the lower 80s.
High temps will dip down into the mid 70s through Thursday, which is when a cold front is expected to go through.
Don't worry: it's expected to be dry!
This will help temps to drop into the mid 60s by Friday!