Step outside and you'll feel a few sprinkles.
The HRRR model predicts more off and on light showers through the afternoon and evening.
Around a tenth of an inch of rain is expected. Probably not enough to rain out outdoor activities, but you may want an umbrella or rain jacket.
(Editor's Note: some of the models have been circulating around social media with 2″ to 3″ total related to Beta. We don't think that's going to happen. Not even close).
All rain is associated with the remnants of what was Tropical Storm Beta. The center of it is now near the TX/LA border.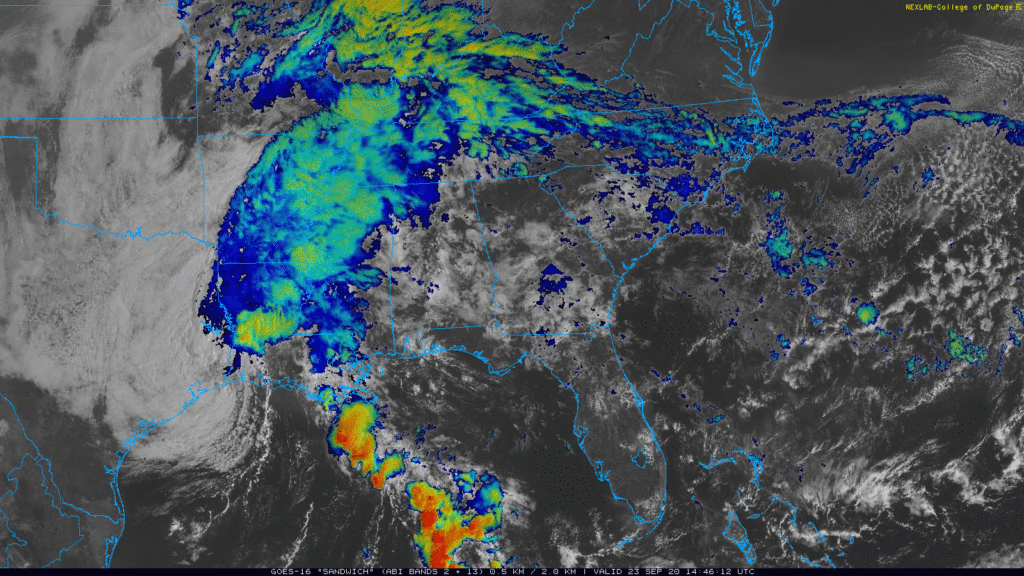 Beta-Rain Continues Thursday
Overnight showers tonight will continue Thursday morning and afternoon. The HRRR model thinks the rain will end sometime close to dark.
Around a quarter of an inch is expected, with your backyard getting more or less than that. Higher amounts are more likely the further south you are. This may be enough to rain out a few outdoor sports, although the rain will be light enough and spread out long enough that many fields can cope.
More Humid, Still Cool(ish) Weekend
Dewpoints will rise into the mid/upper 60°s this weekend, but the heat won't come along with it. High temps only in the 80°s.
Rain is possible to pop up each afternoon beginning Friday through Tuesday, but no rainouts are expected.
Friday Night Lights look fine. Kickoff around 71°, fourth quarter mid/low 60°s, but the dewpoint will be high enough that it won't feel superchilly. #Sweatshirt. Prepare for fog late Friday into Saturday as temps settle along the dewpoint number.
"Where did the cooler temps go?"
Not far. We'll cool back down into the 70°s next week beginning Tuesday.