Possibility of some Strong Storms Sunday Afternoon
Rest of this morning and early afternoon should be quiet.
Stronger storms will begin to pop up this afternoon. The HRRR model shows them beginning to form around 3 pm and hitting us sometime between 4 pm and 6 pm.
Some of these storms could be strong to severe. The Storm Prediction Center has placed us under a 5% chance of seeing strong winds (around 60+ mph) within 25 miles of any point.
Don't let this scare you! We will primarily be looking at some heavy rain, those gusty winds, and some lightning within the stronger storms.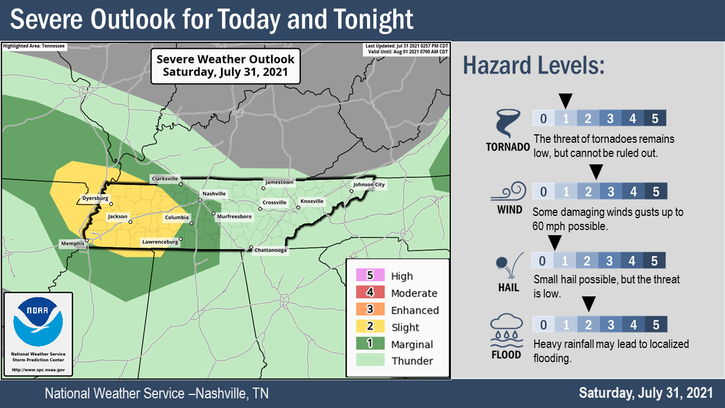 Three-quarters of an inch to an inch of rain is expected today. There could be locally higher amounts from downpours. The rain today mixed with what has already fallen could lead to some localized flooding. If a roadway is flooded, turn around, don't drown!
Rain will continue into the overnight hours. Severe weather is currently not in the forecast for tonight, but we can't rule out a storm making a little bit of noise.
Scattered Showers and Storms Return
We can thank a stalled frontal boundary in Kentucky for this forecast.
Rain chances will slightly decrease starting Monday. Heavy rain should stay south of us, but the HRRR is showing storms beginning to pop up around 10 am tomorrow. They should be out of the area by 7 pm.
There is currently no severe weather in the forecast, but we can't rule out a stray strong storm. The main threats will be heavy rain and some lightning.
Dew points will be in the lower 70s, getting as high as 73 in the afternoon. Heat index values will get into the lower 90s (a lot better than we've been seeing).
Looking Ahead
Tuesday through Friday will follow the same forecast as Monday.
There's currently no severe weather in the forecast, but we can't rule out a stronger storm from popping up. Much like Monday, any strong storms that form will have some heavy rain and lightning. These are most likely in the late afternoon/early evening hours.
Rain/Storms are mostly likely Tuesday afternoon and Wednesday late afternoon.
By the end of the week, our rain totals could be upwards of two to two and a half inches with some locally higher amounts.
Dew points will continue to be in the lower to mid 70s. This will make it feel very sticky outside.
Friday, the frontal boundary will clear, giving way to slightly cooler temps and dew points dropping into the upper to mid 60s.
Labor Day Weekend
Right now models are indicating lower humidity and mostly clear conditions. It is still pretty far out, so things could quickly change. Make sure to keep an eye on future forecasts for your weekend plans!