Scattered Shower and Storm Set Up Thursday
The HRRR model shows showers and storms beginning to pop up around 3 pm. Some people may get some rain while others don't see a drop.
Stronger storms should remain to our south, but we can't rule out one rolling into your neighborhood. The main threats with strong storms are gusty winds, lightning, and heavy rainfall. But that's pretty unlikely.
If you have outdoor plans, keep an eye out on your radar!
Temps will reach around 88°, which is normal for this time of year. Dew points will be hanging out in the mid to upper 60s, reaching as high as 68° this afternoon. Kinda sweaty.
Rain & Storms More Likely Friday
Rain and storms look like they will be more organized and more numerous Friday than what we've been seeing. The HRRR model has them beginning to enter our area around 3 pm.
Main threats will be some gusty winds, lightning, and briefly heavy rainfall.
The Storm Prediction Center has put us under a 5% chance of seeing strong winds (around 60+ mph) within 25 miles of us.
According to the Weather Prediction Center, we could get up to half an inch of rain just on Friday. Locally higher amounts are possible from downpours within storms.
Storms May Continue Saturday, Clearing Out Sunday
Rain will be possible anytime Saturday, although it will be most likely in the afternoon. NWS-Nashville estimates 0.21″ total from 7 AM Saturday to 7 PM Saturday. Most of that in the afternoon.
The Euro model shows scattered rain Saturday. NWS-Nashville's 0.21″ forecast may be an average rainfall across the area, such that one area of town gets 0.42″, while others get nothing. Rainout or dryout possible.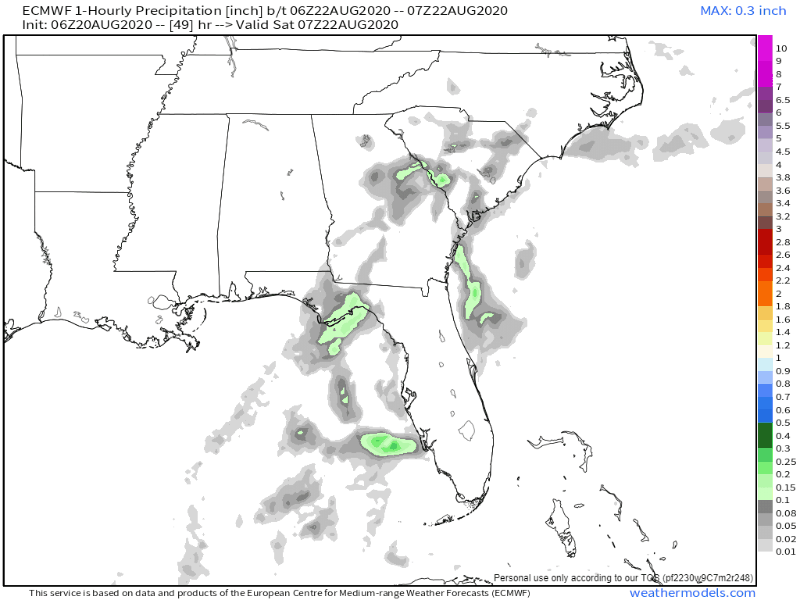 Storms may accompany this rain, so be sure to have enclosed shelter access if hiking, golfing, boating, or whatever.
Sunday is looking to be a bit drier!
For this time of year, can't safely say we won't see any rain, but we should be looking at some sunny skies for much of the day! A mid/late afternoon sneak rain/storm attack is possible.
Good Things Can't Last Forever…
Higher dew points return next week.
After Sunday dew points will be rising into the upper 60s and lower 70s. High temps will also be reaching into the lower 90s, making it feel very hot and sticky outside.