Thursday
Mostly sunny today. Rain should stay to our south, but we can't rule out a stray shower or thunderstorm popping up in your neighborhood.
Highs will be near 90°. The dewpoint will drop from the mid 60 this morning into the low 60s this afternoon.
Hotter, More Humid Weekend
Temps will stay in the upper 80s and low 90s throughout the weekend.
Higher dew points will arrive, as high as 70 for Friday, with upper 60/near 70 dewpoints over the weekend.
With more moisture in the air comes a higher chance of those pop up showers and storms. These are hard to pinpoint when and where they'll form. Some people could get wet while others stay dry.
Your best chance of rain Friday will be during the afternoon and evening hours, mainly after 4 PM. However, the HRRR model looks quiet (use with skepticism):
Saturday rain is possible as early as 9 AM, but the risk is primarily in the early afternoon to evening. However, again, the Euro model is pretty quiet Saturday (not sure how much credit to give this model with mid 60s dewpoints and a high of 90):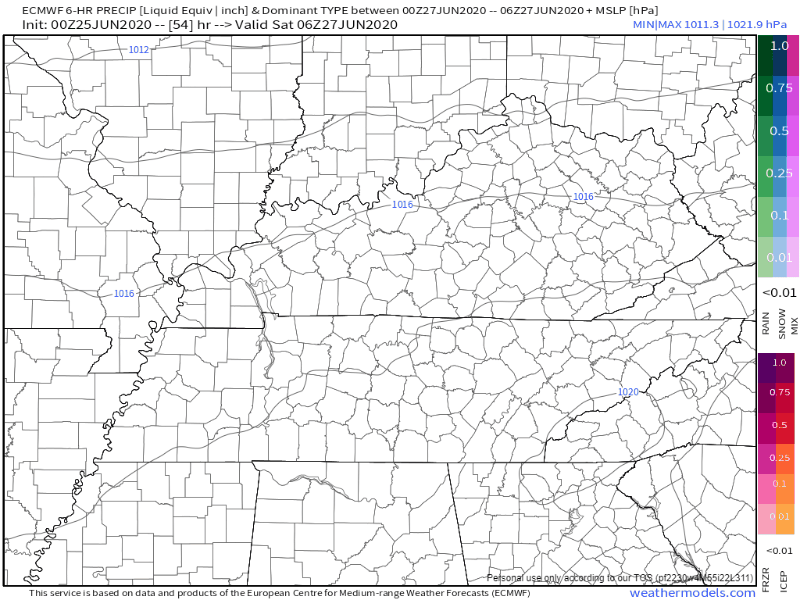 Rain probability increases Sunday. A few storm systems may come through, with lightning and heavy rain possible. Euro model has over 1″ for some, nothing for others.
Severe weather is currently not in the forecast for this weekend. Any storm may contain lightning. There could be some locally heavy downpours that come with some storms. Keep an eye out on that radar if you have any outdoor plans!
What About the Saharan Air Mass?
It will move into our area Friday and linger this weekend. Most of the dust will be suspended aloft, but some of it may mix down to the surface. You probably won't notice it unless you have asthma or other respiratory issues. The dust should bring a few beautiful sunrises and sunsets!
Here's a tweet from UW-Madison CIMSS showing the dust (in grey) arriving in the Gulf of Mexico this morning!
Next Week
Humidity cranks up. Dewpoints in the low 70s! Rain and storms will be possible each afternoon. Increased clouds and rain showers will bring us some slightly cooler temps, only because the clouds are blocking the sun.