Monday
Skies will be mostly cloudy today. Although stronger storms should remain to our southwest, we can't rule out a stray storm ending up in your backyard. Because of Cristobal's location to our west, wind speeds will increase. There will be a 10 to 15 mph southeast wind with possible 25 mph gusts. Highs will be near 91°.
Humidity will be high again today. Dew points are already reaching the upper 60s and are expected to be in the lower 70s by the afternoon. The most uncomfortable part of the day will be from 1:00 pm to 5:00 pm when the heat index will range from 95° to 97°.
Some showers and thunderstorms are possible overnight, mainly after midnight. This comes from Cristobal moving closer to our area. The stronger winds are still possible into the nighttime hours. Lows will be around 75°.
Stormy Tuesday
The HRRR believes the window for storms and potential severe weather opens around 3:00 am and closes around 1:00 pm. However, this window may stay open into the evening. Models don't agree on that yet. Highs will be in the upper 80s.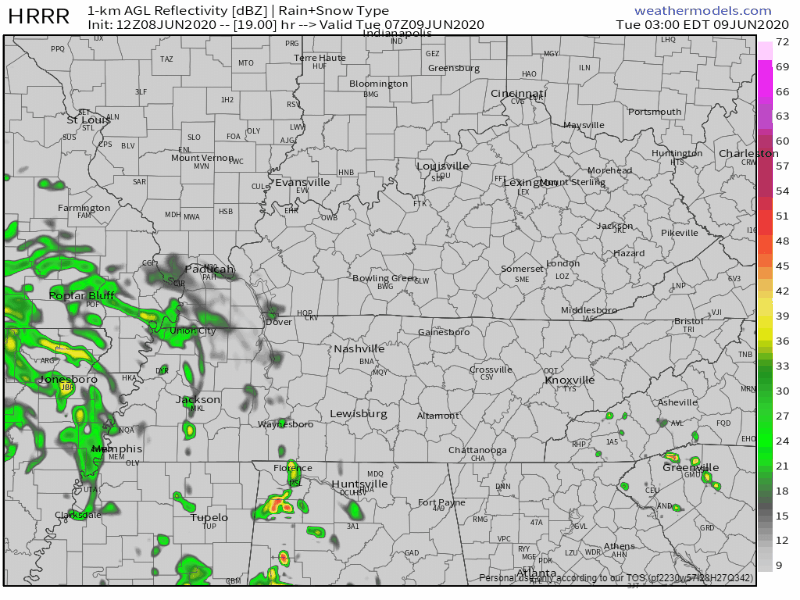 A strong 15 to 20 mph south wind remains possible throughout the day, with some gusts reaching 30 mph. Some higher winds are possible within thunderstorms. The Storm Prediction Center has outlined us to have a 5% of damaging winds (reaching upwards of 60 mph) within 25 miles of any point. This looks to be the main threat from these storms.
However, we can't rule out an isolated tornado. The main threat area is along I-65 and west. The SPC has also included us in a 2% chance of a tornado forming within 25 miles of any point.
This doesn't look to be a flooding event. The Weather Prediction Center predicts that we'll receive around a half an inch of rain through Tuesday, but some locally higher values from thunderstorms are possible.
Make sure to be weather aware! This doesn't look to be a widespread event, but a storm could easily roll into your neighborhood. Have your safe spot in mind if things begin to get rough.
Drier, Cooler Weather Ahead
A cold front will go across the area Wednesday morning, sparking a chance of showers. This should clear out by the afternoon for some clear conditions that evening. Highs will be in the upper 80s.
Sunny skies and some slightly cooler conditions return through Sunday! Highs will be mainly in the lower to mid 80s!