Current Temps and Radar
Today – Mostly Cloudy – High 49°
We will remain mostly cloudy and rain-free despite an approaching low pressure system spreading a few light showers in our general direction. We think the air will be too dry aloft for us to see rain today. Most of the showers will stay south near Tennessee's border with Alabama and Mississippi.
Overnight, we will remain mostly cloudy as temps near the mid 30's.
Friday – BLERG! Rain, Possibly Snow Late – Wake Up 34°, High 41°
The Blerg Returns.
The Euro, GFS, Canadian, and NAM models are all in agreement that precipitation will arrive in the form of rain before sunrise (6:54 AM). Here is a look at where the NAM High Res is showing the showers at 5 AM:
It will continue to rain off and (mostly) on all morning and into the afternoon as the low pressure system continues to move east northeast. Precipitation will continue to fall in the form of rain throughout the rest of the afternoon.
During the early evening (6 PM) the liquid-only precip may begin to transition into a rain and snow mix. The Euro, GFS and Canadian models are all pointing to a transition occurring between 6 PM and Midnight. Here is a look at the GFS during the aforementioned time frame.
The National Weather Service if forecasting the best chance for all-snow to be between Midnight and 3 AM Saturday. Between 3 AM and 6 AM our snow chances will end as the pesky low pressure system streaks northeast along the East Coast, and out of our neck of the woods.
The Weather Prediction Center believes that Middle Tennessee will have a chance to pick up 1″ or more of snowfall accumulation. Davidson County will have a 40-50% chance, with Williamson County having a 30-40% chance.
This seems a little high considering that the models have all been trending towards lower snow chances, the surface temp will remain at or above freezing during the entire event, and the snow ratio looks to be very low. Accumulation looks meager at best, more likely impacting areas of higher elevation.
Our streak of 1,443 days without 1″+ of snow looks safe. From @615Dave: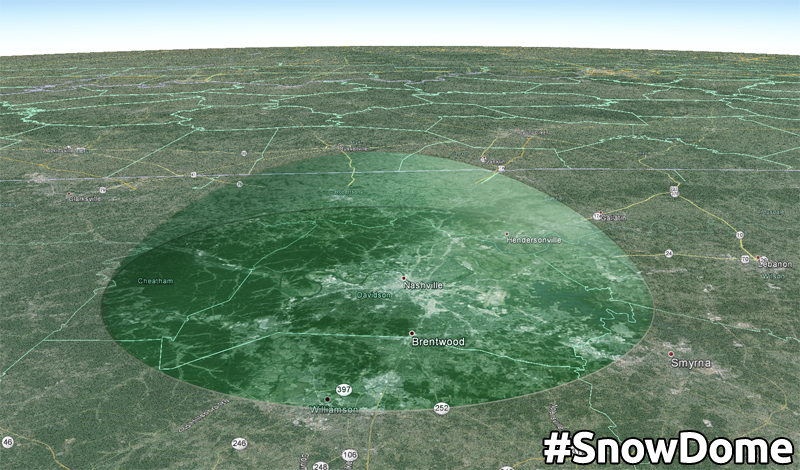 Even if we do sneak a dusting out of this, temps will warm through the 40°s Saturday, and melt it all away.
Saturday – Partly Sunny – Wake Up 32°, High 48°
Temps will reach the upper 40's.
Editor's Note: I deleted a GIF of celebrating Patriots. Replaced it with this.
Mostly cloudy conditions overnight will help keep temps from dropping below freezing!
Extended:
A low pressure system will move across the Midwest Sunday and Monday. When the disturbance is east of Middle Tennessee, we will have a small chance for snow as cold/moist air wraps around the back side.
Our best chance for snow will be late Sunday night into Monday morning.
This website supplements @NashSevereWx on Twitter, which you can find here.