Current Temps and Radar
Quick Summary: Next 48 Hours
Temps still pretty cold.

Freezing Rain is possible Thursday night:
With Rain to follow:

Today/New Year's Eve – COLD – High 36°
New Years Eve is shaping up to be a very cold, clear and dry. High pressure over the Great Plains is pumping in cold/dry air into Middle Tennessee on a north wind. Here is a look at the position of the high and the surface winds according to the GFS  model at 6 PM:
By midnight, the temperature will be in the mid to lower 20's.
It will be cold outside all night, so be sure to bundle up and maybe apply some Chapstick before going in for that New Year's smooch.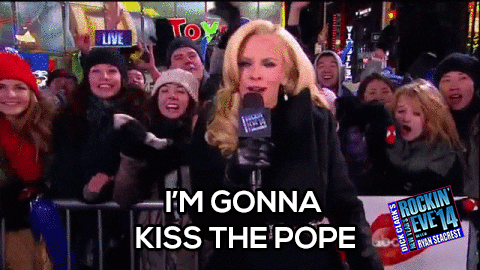 Thursday/New Years Day – Chilly & Increasing Clouds – Wake Up 22°,  High 42°
I am confident you will all party responsibly.
A south wind will return to Nashville ahead of a low pressure system originating out of the Southern Plains. This will increase our cloud cover throughout the day with temps rebounding back into the 40's.
Things get interesting overnight Thursday into Friday morning. A rainmaker arrives from the SW while temps creep near freezing. The National Weather Service believes we will have a chance for freezing rain, but lots of uncertainty remains. The weather models do not agree about what will happen. The Euro and NAM show rain in Nashville overnight, but keeps the freezing line north of the Kentucky/Tennessee border. The Canadian Model Keeps the rain south of Nashville. The GFS provides the closest freezing rain solution to the puzzle.
Editor's Note: Freezing rain is probably the most evil form of all wintry precip. Why? It falls as rain, and most people think it's too warm for ice, and can be caught unaware. After all, it wasn't snowing!
That's what Freezing Rain wants you to think.
Here's how it works. It's pretty simple, really.
Freezing rain occurs when it's warmer (above freezing) overhead, but at/below freezing at the surface. We nerds call this a temperature inversion because it's usually the other way around — warmer at the surface, and colder as you go up.
(Party tip: when a NYE party tonight, impress your friends by dropping "temperature" and calling it just an "inversion.").
If freezing rain does accumulate, it will be very little and mostly on bridges/overpasses, mailboxes, garden gnomes, and missing drunk uncles. By sunrise, a warmer south wind will arrive in time to melt any ice that forms throughout the night. By the morning commute on Friday, there shouldn't be any travel impacts caused by any ice on the roadways.
Friday – Showers & Isolated Thunderstorm Possible – Wake Up 34°,  High 42°
The low pressure system will be nearing Nashville. Shower activity will pick up during the morning and continue throughout the day. Here is a look at the High Res NAM at 9 AM.
The showers will intensify and a few isolated thunderstorms will be possible overnight and into Saturday as the low pressure system moves overhead. No severe weather is expected but some locally heavy downpours could cause minor flooding in low lying areas. The Hydrometeorological Prediction Center is forecasting between 0.25″ and 1″ of rain between 6 AM Wednesday through 6 AM Saturday.
Rain will continue to be likely for the remainder of Saturday.
Extended:

For your entertainment:
This website supplements @NashSevereWx on Twitter, which you can find here.