Today – Coffee & Clear – High 84°
Happy National Coffee Day. Life would not be the same without this magic elixir!
To celebrate and get me through this Monday, I will attempt to drink 10 cups of coffee.

2 down 8 to go!
Besides people being abnormally peppy, today I am forecasting sunny skies and decreasing humidity. We will become partly cloudy overnight with a chance for patchy fog. Remember not to use high beams when driving through fog. =]
Tuesday – Foggy To Sunny – Wake Up 57°, High 85°
The morning commute may start off a bit foggy, especially in low lying areas.
Note: It will likely not be this foggy but I threw it in because it was cool.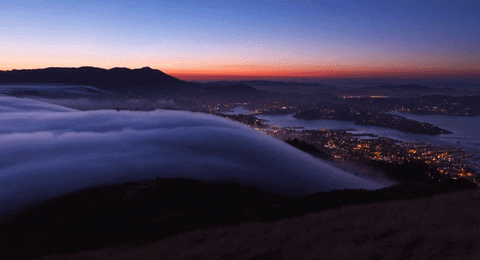 By noon, the fog should have mixed completely out, leaving us with mostly sunny skies. Humidity will also be quite low as a northerly wind nudges a drier airmass into Middle Tennessee.
Wednesday – Warm & Dry – Wake Up 59°, High 86°
We will have another day of warm and dry conditions under mostly sunny skies.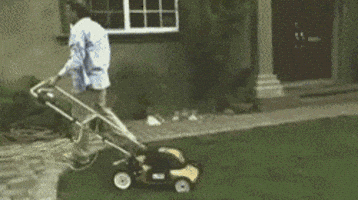 By the end of the work week, we will finally have a solid chance for rain!
Yesterday, the NWS wrote it would not be surprised if we saw some severe weather when a cold front swings through Thursday night or early Friday morning.
Note: the weather models I'm about to review are 96hr, which means they're looking at forecast conditions expected 96 hours away. Recall any forecast 72hr+ lives and vacations in voodoo land. You have been warned.
Euro – this model advances rain/thunderstorms into Middle TN late Thursday night. Convective Available Potential Energy (CAPE) is forecast at or under 1,000, which is relatively low, but doesn't rule out any/all severe weather modes. Shear should be around 30 to 40 knots, which is enough to cause a few problems.
GFS – this model brings the system in a bit slower. It shows 50 knots of bulk shear crossing the TN River, heading east our way, just ahead of less than 1,000 CAPE. Looks like a wet Friday morning. Also, lifted indices are modest. So, all in all, not that different than what the Euro thinks.
Rain is likely, but as for severe weather, we think a squall line will develop just ahead of the arriving cold front. The Storm Prediction Center thinks there's a chance of "isolated severe wind/hail," but, as the GFS/Euro models say, instability looks modest, and the shear is just OK for developing bad weather.
So, basically, a rain event, with a low/marginal chance of some strong storms, with only a little chance of becoming severe.
This website supplements @NashSevereWx on Twitter.