Today's post will be themed after my all time favorite and the funniest movie of all time.
(Editor's Note: The Intern 2.0's ridiculous movie opinion is not shared by Management. For one, Wayne's World was great, but it's not the funniest movie of all time. Second, The Intern 2.0's all time favorite movie is actually Beaches.).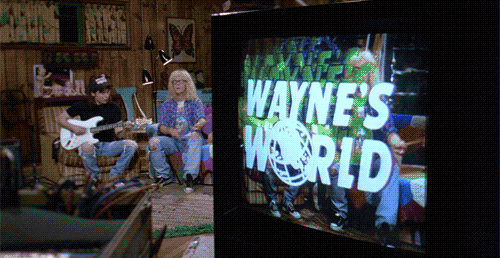 I think we will start this post with a little Bohemian Rhapsody.
Pure cinematic gold!
Today – Excellent –  High 76°
High pressure will build in this afternoon, bringing drier air and sunny skies by lunch time!
Yesterday we wrote "beware of the northwest flow" for tonight, and as it happens, weather models indicate we may see light off-and-on rain late this afternoon, tonight, and overnight.
At last check (6:06 PM), we think the models are overdoing it. Chances of rain tonight/overnight appear pretty low.
Thursday – Party On – Wake Up 55°, High 78°
A few lingering morning showers will be possible, but by noon we will be dry and sunny once again!
Weekend – Humidity & Rain Chances – 80°s
High pressure and sunny skies will allow us to warm up into the lower to mid 80's, and humidity will begin to trickle into Nashville ahead of another "cold front"
on Friday and Saturday.
This "front" is poised to push through Sunday and Monday, bringing rain chances and cooler temps.
So, there's a "chance" of showers and thunderstorms on Sunday.
Extended Forecast