Current Official Hourly Observation (taken at :53 on the hour)
Current Radar Loop
Temp & Rain Probabilities Next 36 Hours (auto-updating)

Saturday – Cool, Showers Early – High 64, 10 PM Temp 53
As we begin this Saturday we are already seeing showers showing up on the radar. These showers are tracking East along the MS/AL and Tennessee state lines. The National Weather Service states that a boundary will remain to the South of Davidson and Williamson counties but Nashville could see scattered showers until noon due to Favorable low to mid level forcing. These showers are a response to an impulse of energy moving Eastward within a large scale upper level feature.
The HRRR simulated radar loop from 7 AM to 4 PM shows the bulk of the showers staying South of Nashville.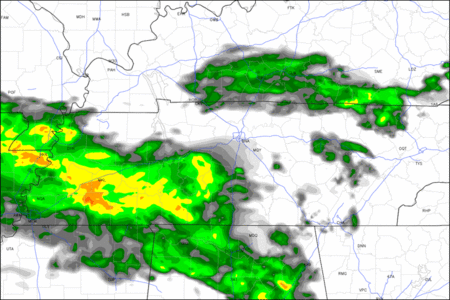 The "impulse" and accompanied showers will be out of our hair late this afternoon.
As we move towards this evening, clouds will persist but the rain will taper off until around 1 AM when a second "impulse" moves through…
Sunday – Morning Rain, Warming up – Wake Up 47, High 71
Once the second "impulse" arrives after midnight we will have another chance for rain. Just like Saturday, the greatest chance for rain will fall to the South of Nashville. The further South you are the greater chance for rain.
The NAM "TechnoFutureSimulatedRadar", Depicting 7 PM Saturday to 1 PM Saturday, shows rain moving through, but mostly staying South of Nashville.
By lunchtime the showers will be off to our East and we will see a partial clearing. This partial clearing will help our high temp eek its way into the 70s. The clearing will continue during the evening hours until we are mostly clear over night.
Monday – Sunny & Hot – Wake Up 47, High 87
In 24 hours we will see a 16 degree swing in temps! The NWS states that high pressure is going to build and dominate our region for the majority of next week. This will keep us hot and rain free!
Here is an impulsive picture to express how excited I am…
Warmer temps and clearer skies ahead!
This site supplements @NashSevereWx on Twitter.