Current Official Hourly Observation (taken at :53 on the hour)
Current Radar Loop
Temp & Rain Probabilities Next 36 Hours (auto-updating)

Tonight – Increasing Clouds – 10 PM Temp 74
Showers and thunderstorms are getting closer, but we'll stay dry tonight.
This satellite image (taken at 2:15 PM) shows the approaching rain/storm system.
Friday – Showers & Thunderstorms – Wake Up  67, High 79
A weak line of rain/storms should be crossing the Mississippi River into Tennessee by 1 AM, and the rain will start falling for us in Nashville between 7:00 – 10:00 AM. Severe weather isn't expected with this.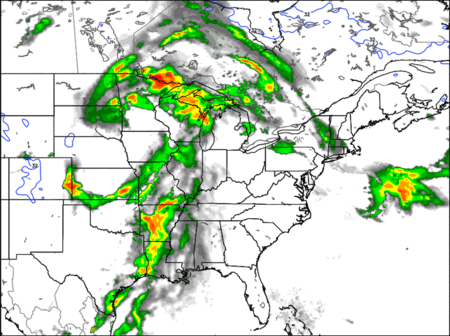 The above TechnoFutureRadarCast loop is from 10 PM Thursday through 1 AM Saturday.
A line of stronger storms should push through by dinnertime on Friday. These storms are not currently forecast to be severe for Davidson and Williamson Counties . . .
. . . but this may change. Be #weatheralert.
Through 7 AM Saturday, we expect 0.5″ of rain.
Saturday – Scattered Showers & Thunderstorms – Wake Up 64, High 79
Off and on scattered showers and thunderstorms will be an ongoing annoyance for Saturday morning into much of the afternoon.
It looks like rain chances will decrease throughout the day; however, we can't say whether it will rain between X and Y on Saturday. We'll have a better handle on that late tomorrow night and early Saturday morning, when the more reliable (but not perfect) short range weather models get "in range."
Here's to hoping the #snowdome has become the #raindome for Saturday's Steeplechase/weddings/ball games/poetry readings/marriage proposals/"fun" runs/etc. Total rainfall forecast after 7 AM Saturday: 0.09″ to 0.17″.
Bust out the ponchos and rain boots… it could be a soggy one!
More rainy days ahead.
I leave you with something cool:
This website supplements info @NashSevereWx on Twitter.