Early Evening – Rain, Non-Severe Thunderstorms Likely 
The HRRR Model (High-Resolution Rapid Refresh Model) has been been too-soon with the ETAs of this advancing rain system.
This loop shows the HRRR simulated radar between 2pm and and 11pm: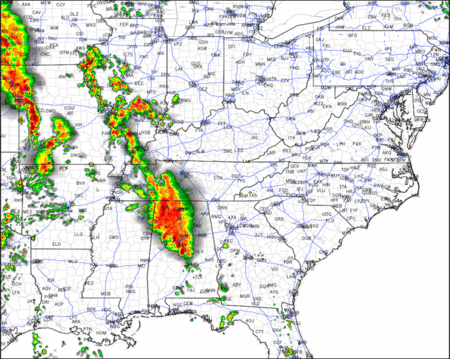 When the rain/thunderstorms finally arrive, they'll have the potential to produce small hail, scattered heavy rain and gusty winds. Lots of cloud to ground lighting strikes are also expected; however, severe weather is not expected.
Tonight/Overnight — Squall Line
(Forgive the spacing issue; can't figure it out). All the weather models think a squall line will form in eastern Arkansas later tonight, then cross the Mississippi River, reaching the Tennessee River after midnight. That would put the squall line along I-65 very early Monday morning. This would be our first chance of severe weather, capable of hail and damaging winds.
The squall line should be gone by mid-morning.
Monday — Watching for Supercell Development
Once the squall line passes, attention turns to the Monday 1 PM to Tuesday 1 AM timeframe.
During this time, "the potential for a widespread severe weather outbreak, including very large hail and strong, potentially numerous, tornadoes continues to exist." (NWS, Afternoon Area Forecast Discussion; all subsequent quotes from the same source).
The only difference between this morning's thinking and the current thinking is a "somewhat earlier possible convective [storm] initiation timing estimate." That as is to say: we thought storms would initiate later in the afternoon. Now, we think they may initiate earlier.
The big unknown — and the million dollar question — is where these storms will first appear. There is low confidence in the current thinking that the storms will originate near the Tennessee River (to our west).
Once the storms form, they're expected to mature into supercells, and move northeast at about 50 mph. "This would put all of Middle Tennessee in the path of very strong supercells," assuming, of course, the storms initiate to our SW and along the Tennessee River.
Under this scenario, Monday "from 4 PM to 10 PM looks to be the timeframe of peak threat."
This is not a "high confidence" forecast, because . . .
1.  The models, especially the Hi-Res models, haven't performed well today. Much of the timing is based on these models.
2.  If the models continue to err, and the squall line doesn't come through tonight and clear us out, the result will be low level cloud cover which will blot out the sun. Low level clouds prevent destabilization of the atmosphere by blotting out direct sunlight. If this cloud cover occurs during the morning and early afternoon hours; it will delay, but certainly not eliminate, our storm concerns.
The SPC outlook remains unchanged from early this morning:
Map translation: for Davidson & Williamson Counties, there is a 30% probability — just under 1 chance in 3 — that a severe weather event (tornado, damaging winds, large hail) will happen 0 to 25 miles from you.
The "hatched" (shaded) area means there's a 10% "or greater" likelihood that severe weather event happening within 0 to 25 miles of you will be significant. Here, "significant" means 2″ or larger hail, 65 knot or stronger winds, and EF-2 or stronger tornadoes.
Tuesday — An Uncertain Severe Potential 
This is unchanged from this morning. The potential for severe weather continues, but the extent of which remains highly dependent on the storms we get Monday. The trend, however, is that our threat Tuesday is decreasing, having shifted South. This is reflected by the SPC Day 3 Outlook, which has, I'm happy to report, removed us from its Slight Risk outlook:
Flash Flooding will also be a concern. We are forecast to collect to 5 inches of rain in the next few day. This is not a repeat of May 2010, but it doesn't take a 100 or 500 year flood to cause big problems.
GFS total rainfall between now and Wednesday morning: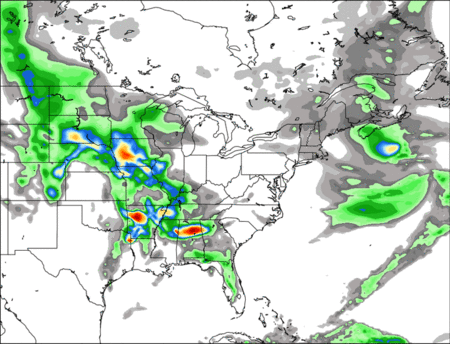 Turn around don't drown!
Finally, I'm leaving this section up again — a few friendly reminders:
For starters, be sure to have multiple reliable sources to receive Watch and Warning information. This should include an app, a NOAA weather radio, "regular" radio, and/or, of course, local TV (2, 4, 5, and/or 17).
I think your well being is worth heeding NWS Warnings. This means you taking cover in a lowest level, interior room of your house (not a trailer and not a car), with your shoes on, ID in your pocket, charged phone, and helmets for everyone. If you're in a Tornado Warning polygon (more on this below), do not go to the front door and try to see it — it's very likely going to be wrapped in rain. You. Will. Not. See. It.
Remember, a Watch means conditions are favorable for the development of a tornado. You should "watch" and otherwise monitor your sources of severe weather information, already prepared to take action if a warning is issued.
A Warning means a tornado is occurring or imminent. It could mean a tornado is detected on radar (but no one has reported it … yet). It could mean one has been spotted or has otherwise been confirmed on the ground. Act anyway.
A Warning always comes with a polygon. Those inside the polygon are in the warned area and should immediately take shelter. Those outside the polygon aren't warned, but if you're close to it, take cover anyway.
Example:
You can help the NWS and your community by tweeting your report of occurring severe weather (funnel cloud, wall cloud, tornado, trees down/structure damage, hail the size of a quarter, flash flooding) to NWS-Nashville by including the hashtag #tSpotter. Either geotag your location, or let us know where you are and when you saw it. The NWS will see your report, and it could assist the NWS in issuing a warning that saves someone's life.
Note: WARNINGS WILL NOT BE POSTED TO THIS WEBSITE.
Finally, don't forget about the Flash Flooding potential. Do not drive over water-covered roads. It's cheezy, but true: "Turn Around, Don't Drown."
We'll be up with another post in the morning.
Current Official Hourly Observation (taken at :53 on the hour)
Current Radar Loops
Local radar loop includes live severe weather warning
Temp & Rain Probabilities Next 36 Hours (auto-updating)

This website supplements @NashSevereWx on Twitter.