Current Official Hourly Observation (taken at :53 on the hour)
Current Radar Loops
Temp & Rain Probabilities Next 36 Hours (auto-updating)

Tonight – Cool & Clear – 49 at 10 PM
Clear skies and a NE wind at 5-10 mph will help cool us down.
The winds will shift from the NE to the SE, preventing temps from dipping into the 30s overnight.
Thursday – Warm, Storms Late  – Wake Up 43 / 79 Afternoon High

South winds (10-15 MPH) will deliver warm, moist air to Middle Tennessee. Afternoon clouds are forecast to cover up the morning sun, all ahead of a weakening line of storms that will approach us Thursday night.
Although storms to be produced by this squall line should not be severe by the time they reach us, 40-50 mph winds and small hail may still be possible.
The GFS model thinks the rain/storms will start between 7 and 10 pm (Thursday), and end between 1- 4am (Friday).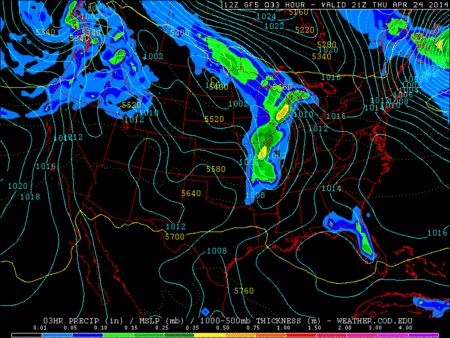 We expect between 0.25″ and 0.33″ of rain.
Friday – Sunny, Clear – Wake Up 58 / Afternoon High 78
Official Extended NWS Forecast:
The Nashville Rock 'n' Roll Marathon & Half Marathon is going to be awesome!
54° at the start of the race, low 70°s by noon, no rain in the forecast.
In addition, humidity will be low!
Bring sunscreen.
Severe Weather On The Way?
This weekend, a powerful storm system is likely to develop in the Great Plains, then push across The Mississippi River by Monday – red area on Saturday, purple area on Sunday, and green area on Monday:
This system is expected to arrive in Middle Tennessee Monday. It may or may not be as powerful as what we'll see to our west, and a lot can change, but all the ingredients to produce severe weather are expected to be in place. It is too early to say whether there will be Middle Tennessee tornadoes associated with this system, but no responsible forecaster is ruling them out.
This afternoon, the National Weather Service issued this Hazardous Weather Outlook:
A lot can can change (for better or worse) between now and Monday. Stay tuned.
This website supplements info @NashSevereWx on Twitter.