Current Official Hourly Observation (taken at :53 on the hour)
Current Radar Loop
Temps & Rain Probabilities Next 36 Hours (auto-updating)
*(Editor's Note: The Intern 2.0 has today's blog. In the spirit of St. Patrick's Day and terrible jokes, I added some Irish phrases I read on this website. Do not blame The Intern 2.0 for this. There will be plenty of blame to assign him later).
Overnight – Patchy Fog – Temps Fall Into The Mid 30s But Stay Above Freezing
Lingering clouds will insulate us, and keep temps above freezing. This will put us in a good place to warm quickly tomorrow.
We expect some overnight fog, but at least it won't be freezing fog.
Safely consume your pints of Gat.
Tuesday – Hasn't Been This Nice in Donkey's Years – Morning Low 35 / Afternoon High 65
Get wrecked last night? Ossified? Got the fear? Hopefully, your mind will decluttter, like the fog, which should mix out shortly after the sun rises. You may not even need your jumper.
South winds will be sustained at 10 to 15 mph, with gusts as high as 25 mph. Here's a dancing Hi/Lo map: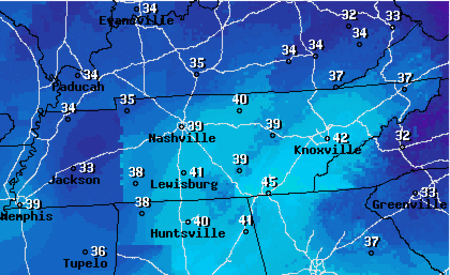 An almost 30 degree swing in temps from morning low to afternoon high! This nice weather will be like hen's teeth.
Wednesday – Warm Temps, Gusty Winds And A Slight Chance of Rain – Morning Low 47 / Afternoon High 63
There is a slight chance of rain from 1 AM to 10 AM Wednesday. Keep an umbrella in the boot.
The rain chances during this time remain low. Rain showers (if any) will be very light and scattered.
The wind will be a sustained between 10 to 15 mph.
These meteorological ingredients can only mean one thing…
That's right… a bad hair day!
Official Extended NWS Forecast:
Additional information can be found on Twitter @NashSevereWx.
(Editor's Note: Again, I apologize for all this. This was truly terrible.)