(Editor's Note: This post was written by Bobby, the Intern Applicant who took a shot at Peyton Manning on his first go-around).
Current Official Hourly Observation (taken at :53 on the hour)
Temps Next 24 Hours (auto-updating)

Current Radar Loop
It's Severe Weather Awareness Week across the State of Tennessee. The NWS picked the right week — there's a chance of severe weather Thursday.
Today's topic is Lightning:
Tonight – Chance of Thunderstorms

Later tonight expect scattered, hit or miss thunderstorms. These carry a 5% chance of small hail happening between 0 and 25 miles of you. See the below hail probability from the Storm Prediction Center: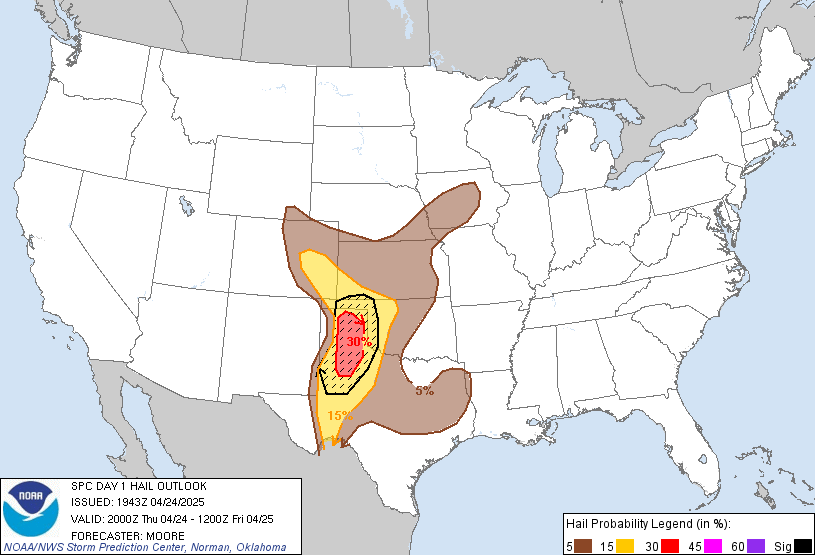 Expect this activity to begin around 10 PM. Send any hail reports to the NWS by tweeting it with the hashtag #tSpotter.
Wednesday – Mostly Sunny, Chance of Rain Late – Morning Low 52 / Afternoon High 64
It's going to be a spring-like day thanks to the arrival of warm, moist air from the Gulf. There's a chance of rain again late Wednesday night, but nothing severe.
Thursday – PM Strong/Severe Thunderstorms Expected – Morning Low 52 / Afternoon High 74
The SPC (Storm Prediction Center) has us under a slight risk of severe weather Thursday. Don't focus on the term "slight." Think of it as "elevated."
Before the storms arrive, winds will be strong: sustained winds at 20-25 mph, with gusts up to 45 mph. A Wind Advisory will probably be needed.
Here's an overview of the system from GFS model, covering Thursday 6 AM – Friday 6 AM:
Timing:
The storms will race into Tennessee from the west and be on us by the early evening (rush hour). We are expecting the storm line to arrive sometime between 6 PM and 9 PM.
The timing isn't certain. The NAM (predictably) sends it in quickly, around 3 PM:
However, the GFS (below) and the Euro (not shown) agree on the after-rush hour ETA. I think this is legit.
How will this impact us?
This will be a fast moving band of severe thunderstorms (squall line) moving in east in a straight line. It will pack strong winds, potentially up to 58+ mph (which would make them "severe"). This is the main threat.
Rain totals will be as much as 1″ and 1.5″; however, there is no flooding concern.
There is also a low-end risk of tornadoes embedded in the line of storms. Tornadoes can form on the leading edge, or embedded inside, the storm line. In the event of a Tornado Warning, shelter in the lowest level of a sturdy structure (NOT a car or mobile home) with as many walls between you and the outside — not saying you'll need to shelter, but be prepared just in case.
Official extended NWS Forecast:
"I can see clearly now, the rain is gone"… Great weekend ahead!
Additional information can be found on Twitter @NashSevereWx.