(Editor's Note: When the Intern, @yakishk, took this gig, he agreed to (1) not get paid, (2) be dependable, responsible, and professional, and (3) find us his replacement.
He has been terrific. He will soon graduate and enter the real world of crushed dreams and disappointment opportunity. He has found underclassmenandwomen who are interested in getting some experience and honing writing/communication skills by becoming The Intern 2.0. 
Management interviews applicants by tossing them in the water, and seeing if they can swim. You'll see the above Dilbert cartoon for every post written by an applicant for The Intern's job.
Behold, The Intern Applicant #2!)
Current Official Hourly Observation (taken at :53 on the hour) & Radar
Tonight – Cloudy & Chilly – 6p 34  . 9p 31 . 12a 30  . 3a 29
Enjoy the weather this evening, because it won't last. Clouds and chilly temperatures are the only thing in the forecast tonight. Hold on to your hats, because another round of precipitation will roll into town tomorrow.
(This is an image from the Dust Bowl, but it portrays us ducking for cover because of more rain).
(Editor's Note: I love the encouragement to enjoy tonight's low visibility, cold, and dreary evening! He's right, tomorrow will be worse. Also love the image: is there a better way to prepare for a cold rain than to remember the Dust Bowl? So far, so good, Intern Applicant #2).
Tomorrow (Tuesday) – Afternoon Rain, Maybe a Thunderstorm – Morning Low 30 / Afternoon High 39
6a 28 . 9a 32 . 12p 32 . 3p 39 . 6p 40 . 9p 39

Weather models, NWS, and the SPC are predicting rain to begin falling in the early afternoon, which is when we will see our best chance for a thunderstorm.
The chances for thunderstorms drop off right before rush hour (5-6 PM). Rain will continue through the evening hours, possibly continuing after midnight.
The freezing line should stay north of Tennessee Tuesday, but it is forecast to drift south Wednesday.
Wednesday: Cloudy, With a Small Chance of Snow – Morning Low 34 / Afternoon High 39
6a 34 . 9a 35 . 12p 38 . 3p 39 . 6p 34 . 9p 30

The available precip will be lacking, and temps should be (barely) above freezing. However, if we get enough moisture while we are close enough to freezing, I suppose it's possible we may "wet-bulb" our way to snow. This is really unlikely, and even if we had snowfall, it's very unlikely to stick.
In fact, the better snow chances are pretty far away (off to our west). Thursday at noon: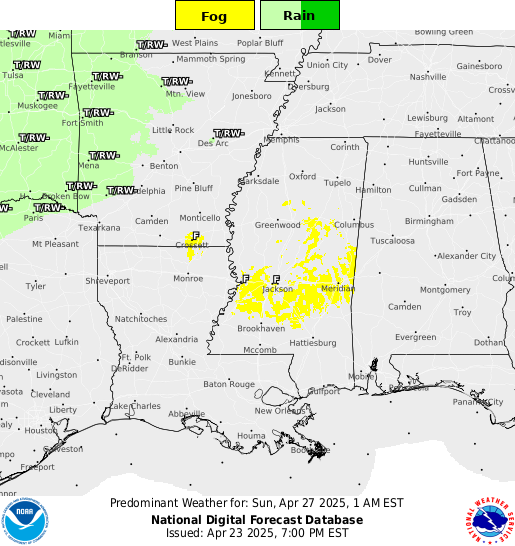 Thursday at Midnight: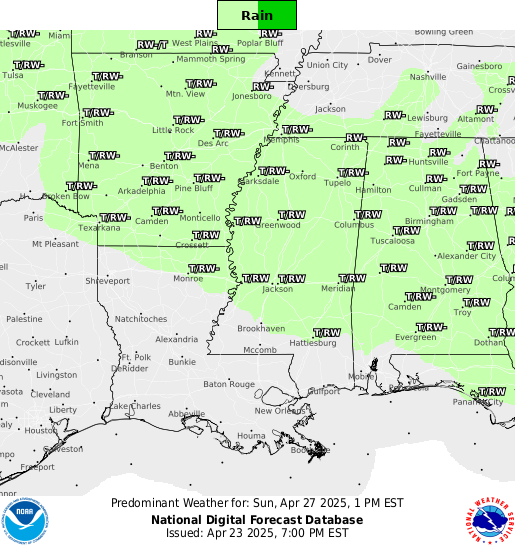 (Snow Dome…?)
(Editor's Note: Love the snow dome reference. #2 did his homework!)
On A Side Note: The winter weather that narrowly missed us is causing blizzard conditions at Met-Life Stadium (where the Super Bowl was)…At least Peyton Manning and the Broncos can't use weather conditions as an excuse for their loss to the Seahawks yesterday.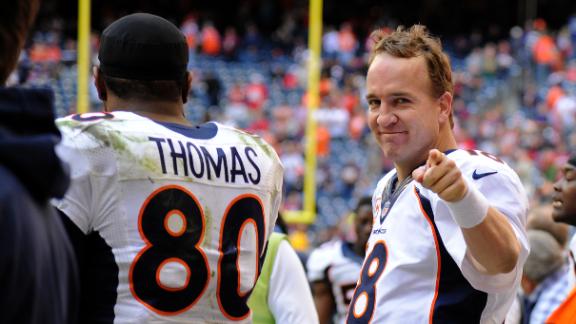 (Editor's Note: Whoooooooooooa! Did he just take a shot at the most beloved dude "from" Tennessee, like, ever? Bold. Very bold. If #2 becomes The Intern 2.0, we shall require him to write a 5,000 word essay on how awesome Peyton Manning was, is, and forever will be.
In order to quell a riot, Management hereby declares Peyton Manning awesome:
Extended Official NWS Forecast
Writer
I am Robert Mc Illece. I am a Junior meteorology major at Mississippi State University aspiring to be an on air meteorologist. I also hope to be the intern here @NashSevereWx this summer. I hope this blog post was informative/helpful.
Have a great evening!
-RM
(Editor's Note: All jokes aside, great work Robert. Thanks for your time.)