Now
Click here for the mobile version (or if you want a full page radar view on desktop).
Quick Summary: Next 48 Hours

Temps holding steady in the 50°s

It's going to rain a lot.

Today – Showers Possible – High 57°
Unseasonably warm temps and plenty of moisture continues to funnel in ahead of an approaching low pressure disturbance. The best chance for rain will be after 1 PM. Here is a look at the HRRR Model's Simulated Radar at 2 PM.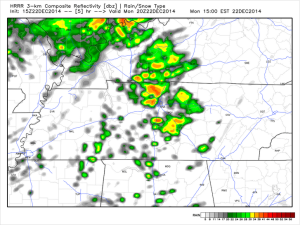 The hit/miss showers will continue all afternoon and into the evening.
Rain chances improve overnight as the cold-front-toting low pressure system nears.
Tuesday – Showers & Thunderstorm Possible – Wake Up 49°, High 59°
We will have hit/miss morning showers until the surface low makes its way from the Gulf of Mexico into Tennessee ahead of the cold front at 1 PM. Here is a look at the High Res NAM at 1 PM.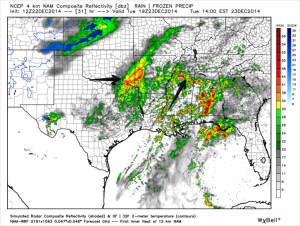 This is the same time that the NWS believes thunderstorms could start developing in Nashville. Showers and non-severe thunderstorms will continue as the surface low preceding the cold front pushes northeast.
We will hang onto the high likelihood of showers and non severe thunderstorms overnight as the cold front moves overhead. The High Res NAM is showing a weak squall line (line of showers and thunderstorms) making it into western Middle Tennessee at 9 PM.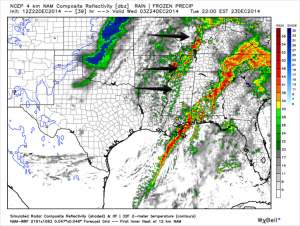 Showers will continue for the rest of the night.
Christmas Eve – Lingering Showers & Snow? – Wake Up 47°, High 49°
Nashville will have lingering showers associated with the passage of the squall line until around noon. The Hydrometeorological Prediction Center believes we will see 0.75″ – 1.5″ of rain from 6 AM Monday through 6 AM Wednesday.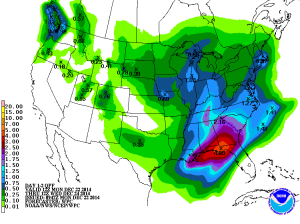 After noon, the rain will begin to taper off and begin to fall lightly. All the models think it will be too warm to produce any frizzy precipitation Christmas Eve Day.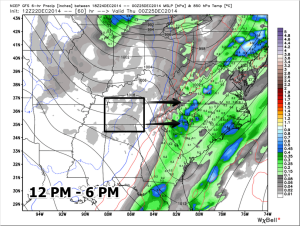 For you optimists out there, we cannot rule out the possibility of some very light frozen precipitation wrapping around the back edge of the system around midnight at Christmas Eve.
Again, this is very, very little precipitation, and it's likely none of it would ever reach the ground, and if it did it certainly wouldn't stick, but, yes, as to the question of whether you may see a snowflake or two on Christmas Eve.
The weather system will quickly move away on Christmas Day 35° / 49°, leaving us mostly sunny and mild.
Extended: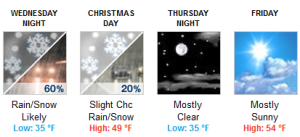 This website is part of the ongoing conversation on Twitter @NashSevereWx on Twitter. You can find that here.